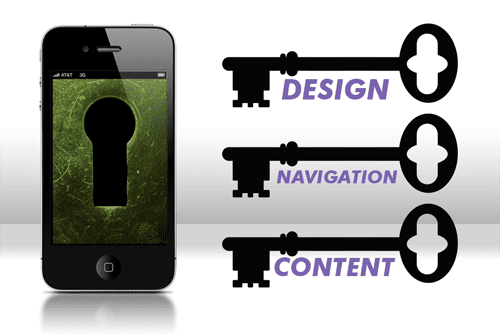 Three Keys to Mobile Responsive Websites
Prepare yourself for a bold blanket statement
Everything is going mobile
. Even your dog knows that mobile is outpacing desktops and laptops. If this is news to you, then we have bigger problems to address aside from uncovering the basics of mobile responsive websites.
A lot goes into creating a mind-blowing mobile website capable of shadowing the desktop experience. Trying to get your online presence to translate fluidly onto a mobile device or tablet comes with a number of challenges. Without overwhelming you with the sometimes excessive details concerning screen resolutions, dots or pixels-per-inch, iOS requirements and CSS bugs, we have broken down creating a
class-act mobile responsive websites
into three simple elements.
Before we begin, it would probably be beneficial to point out the basic differences between a mobile responsive website and the three other mobile options we offer here at Horton Group. Our three different levels of mobile development are: Mobile Responsive, J-Query Mobile and Native Mobile Apps. Whereas the latter two options include a bit more intensive development work and come with navigation and design elements completely separate from your traditional website, Mobile Responsive essentially takes a copy of your desktop website and makes it respond to the screen size of your smartphone or tablet. This helps eliminate excessive pinching and dragging by putting everything into one column that fits the width of your screen.
So now that you know what mobile responsive is, here are three simple keys, certain to give our web developers and designers a heart attack, to making sure your website is finely tuned for mobile responsiveness.
Simplifying
Mobile Responsive Websites
Design for mobile first. I do not know how else to say this more clearly. Know thy devices screen resolutions and designith around that. This will establish the future of your website on mobile. We have reached a point in web design that no matter what you envision your website becoming, when choosing a design, your focus should be on mobile browsing and mobile functionality. To the chagrin of web designers everywhere, web design for mobile responsive is straightforward and simplistic. Forget about becoming the next Frank Lloyd Wright of web design. The artistry in mobile web design is in being able to organize and structure a page so that the most important information can be viewed as a whole, on a smaller screen, without making it look like a Jackson Pollock painting.

Progressive Improvement. Always leave space for improvement. This is a branch of your website design. Once you have agreed on a design, make sure there is room for growth. Add value without breaking things. Smartphones are…well, smart, but you are smarter. Pay especially close attention to the homepage. Make sure you are not adding information or tools that will contend with the more popular and static areas. Keep on improving your website so eventually, regardless of what kind of gadget it is being viewed on, it retains its usability.

Content. It is the tie that binds everything you do online together and is just as important on your mobile website as it is on your desktop website. Useful content is what is going to keep the majority of mobile users from moving on to the next best thing. Content needs to be kept fresh, varied and relevant. What do users want most – product information, tips, news, entertainment, tools that make their lives easier? Think of those things and create content that supports the actions and habits of your mobile audience. Create content that is shareable and connects to other mobile applications and, sure enough, people will bookmark, fan, follow and like your mobile website to the end of time.
And there you have it. Three simple steps for rocking the best mobile website. Design for mobile devices, make it scalable for future improvements and add content tailored to a mobile users needs.
If you want to get even deeper into the nitty-gritty of what makes a truly successful mobile responsive website shine, like integrating the proven SEO practices and social media linking, give us a call today and we will share with you some additional keys to succeeding in the mobile marketplace.