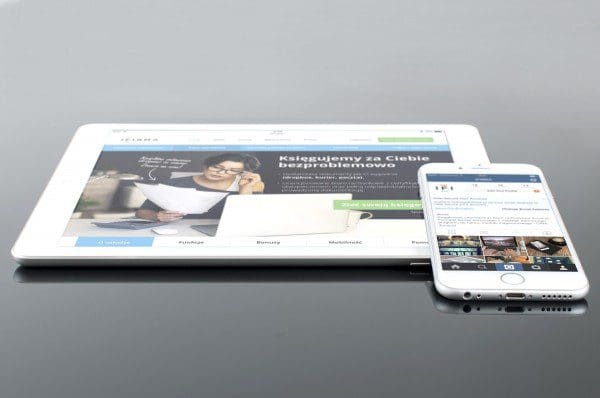 ADA Compliance and Web Accessibility
As we look forward to 2017, it's time to fully embrace both Web Accessibility and ADA Compliance. If your website isn't accessible or compliant, it's time to take the plunge. A great website looks and performs beautifully across all platforms, a variety of browsers, and on a plethora of devices ranging from a 2007 Galaxy to the latest iPhone. The world of the internet is as vast and varied as its users. Websites need to push boundaries, making valuable content available to every user, regardless of ability, age, country of origin, or socioeconomic status. Making the internet accessible to everyone is what ADA Compliance and web accessibility are all about.

ADA Compliance
The internet has significantly altered the way in which we access information. Accordingly, the ways in which government organizations, service providers, nonprofit organizations, NGOs, and for-profit companies share information, provide services, and conduct business has also changed. A website that is well-designed and thoughtfully developed is both ADA Compliant and accessible.
According to the US Census Bureau, nearly 1 in 5 people, or nearly 57 million Americans, had a disability in 2010. Imagine, for a moment, users and consumers of technology who can't use a mouse, are unable to hear video content, cannot see text and images, or lack the ability to focus on what's on your page. Now, design a website with those users in mind.
According to the U.S Department of Justice, "When accessible features are built into web pages, websites are more convenient and more available to everyone – including users with disabilities. Web designers can follow techniques developed by private and government organizations to make even complex web pages usable by everyone including people with disabilities. For most websites, implementing accessibility features is not difficult and will seldom change the layout or appearance of web pages. These techniques also make web pages more usable both by people using older computers and by people using the latest technologies (such as personal digital assistants, handheld computers, or web-enabled cellular phones)."
When creating an ADA Compliant website, here are a few solutions to common accessibility issues for web developers to keep in mind:
Add a text equivalent to every image so that people who are blind or who have low vision can better interpret the visual content on your website. Screen readers, while increasingly sophisticated, can't translate images into speech without descriptive alt tags or long descriptions.

As convenient as PDF documents are, they are not compatible with screen readers. Always provide alternative text-based options.

While aesthetics are important, when it comes to accessibility it's equally important to leave your designer's ego at the door. Allowing users who are visually impaired to manipulate colors and font settings is critical.

While multi-media and video are increasingly common, providing audio descriptions of images, scenes, and emotional content makes videos more accessible to those with low vision, aging technology, or poor connectivity issues.

Including a "skip navigation" link allows people who use screen readers to ignore navigation links and move directly to your website's content

Minimizing blinking, flashing, and other distracting features is not only good for your site's aesthetics, but it is also sensitive to those who may be seizure-prone.

Include visual notifications or captions for videos for th

ose who are deaf or hearing impaired.
TechRepublic encourages developers to collect feedback about usability and to "…ask users what type of adaptive technologies they use. This will allow you to cater your website to your particular clientele, and will help you appoint resources toward the best compliance options."
---
Interested in seeing what it's like navigating the internet with a screen reader? Download

ChromeVox

here.
---
Accessible Websites
Making sure that your website is ADA compliant is a great first step, but making sure that your website is accessible is just as important.
Earlier this year, Chris Heilmann, Developer Evangelist at Microsoft, gave a blunt, no-nonsense talk at the Awwwards Conference in Amsterdam about accessibility and web optimization. A well-developed website focuses on how users interact with a site and isn't consumption-focused. He laments the "obesity" of typical websites, slow load times, and urges developers to develop the fastest, leanest product for everyone, not just the user elite. According to Heilmann,"It's about who performs best, is most accessible and is usable by all kinds of people – not the ones who are already bored of it."
Heilmann notes that the average website contains a whopping 2232 kB of information with 1426 kB of images, 357 kB scripts, and 174 of fonts. He urges developers to get leaner by uploading the correct file formats, resist delivering hi-res images to all users, paying attention to automatic conversion and optimization, and to stop overusing hero images over text content. Put simply, he encourages developers to think of the finished product from an end-user point of view, to "feel their pain." Trimming the excess and being mindful of compression and optimization can make for a leaner, faster, accessible, and compliant Internet.
Not only in many cases is having an ADA compliant website a legal requirement, but companies have a moral and ethical obligation to make information accessible for all users, regardless of their background. Not only is it the right thing to do, but compliant and accessible websites foster greater brand loyalty, are SEO-friendly and offer great PR and financial opportunities for your brand.