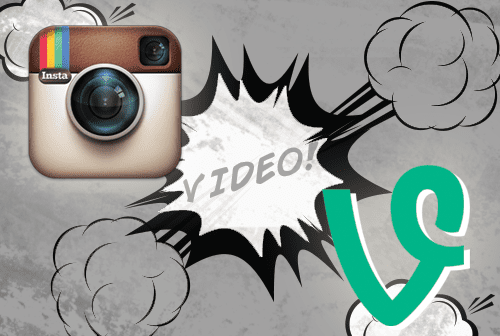 Instagram Video has Vine Clinging to Users
Vine was having its big moment in the spotlight, when Facebook stepped up to the platform and interrupted by basically shouting, Vine, Im gonna let you finish, but Instagram is the best app of all time! Think shades of Kayne West interrupting Taylor Swift's acceptance speech at the MTV Video Music Awards show in 2009, you will know exactly what Im talking about. If you havent seen that moment, you're probably not reading up on pop culture as much as the good social media doctor prescribes. That joke may be lost on you, but the big swing in social media momentum it illustrates should grab your attention.
Instagram Gets Moving
Yes, folks. Instagram has finally added video capabilities. When the announcement came, millions of Instagram users (including myself) rejoiced. Hipsters took off their fake glasses to make sure they were reading the news correctly. Foodies almost actually ate the food they made solely for the perfectly staged photo. Fashionistas and sartorialists alike took a brief moment away from their lunch of cotton balls and cauliflower to relish in the beautiful realization that selfies will now be on. another. level.
Within an hour of the announcement, users were Instagramming screenshots of their iPhones, revealing the imminent demise of the Vine app via a mean little black X, while Twitter was trending with the #RIPvine hashtag.
So is this really the end of Vine? Im going to go out on a limb and say yes. Vine was brilliance, don't get me wrong. And there are certainly some power users still employing the app in new and exciting ways. But Instagram already has a devoted following and acclimated millions of users all over the globe. Vine does not have the traction to compete. Personally, I prefer Instagram not only because its what most of my friends and colleagues use, but because you can filter the videos, just like you can filter your photos. In short, I can make my completely pathetic attempts at mastering the arts of cinematography look like I at least had both eyes open while shooting the snippet.
But that's not all, Instagram will reign supreme not just because it was Zuckerburgs wisest acquisition in the past 3 years, but because of the brilliance that is the hashtag. Now that Facebook has made hashtags searchable on their platform, it opens up a whole new world of cross-pollination and cross-promoting possibilities.
What do you think, is Vine dead or is this just the beginning?