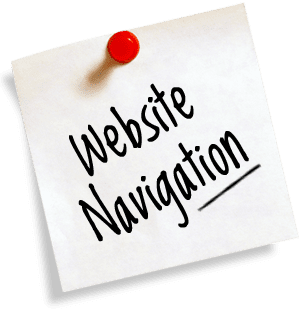 Great Web Design: Intelligent Navigation
Having an great looking web design with great content is only half the battle when it comes to effective web design. Even websites designed by professional web designers fail in their most basic mission to be user-friendly. If visitors don't find what they're looking for quickly, theyll go elsewhere. Intelligent navigation keeps visitors on your website. It also makes their experience more enjoyable and informative, and they're more likely to buy your products or services, or at least revisit your website another time.
Remember that a visitors first view of your website's web design is not necessarily the home page. They can enter your website through any web page from external links. If they find themselves on your Contact Us page, is it obvious what your website is all about? Can they easily locate a link back to the home page? On every web page the user should know what the website is about, where they are on the website, and where they can click to find out further relevant information about your company.
The actual home page of your web design should have a clean layout. That means leaving enough white space between unrelated information to avoid confusion. A cluttered home page also looks unattractive and unprofessional. You may be familiar with all the information on the web page, but a new website visitor is not. They don't have time to click on 20 links before they find what they're looking for. Use less links per web page. If you have to, use drop-down menus.
Users expect primary navigation links to be either on the left hand side of the page or horizontal along the top. Don't disappoint them. Make sure the links are easy to see and clearly named. Website visitors need to understand where every link will take them. Avoid graphics for navigation links. To avoid confusion, use plain text. And keep it consistent by using the same style of text on every web page.
If your main navigation links are on the left, make sure they're all fully visible when the home page loads. Visitors shouldnt have to scroll down the page to see hidden primary links. If the web page is fairly long and the main links disappear after scrolling down, put a text menu in the page footer. New website visitors could feel stranded without this simple guidance. It also speeds up the navigation process for more experienced web users. To make more space for content, primary navigation links are probably best placed at the top of the web page. Just make certain that they're below any graphics or adverts in the page header.
By making secondary navigation link text slightly smaller, users can easily distinguish it from primary navigation links. These secondary links (like News) are also effective on the left hand side of the web page (if you're using top navigation). To make navigation even more user-friendly, place links within a body of text. This is extremely useful to users who want to find relevant information quickly.
Visitors shouldnt have to remember which links theyve already clicked. Use the same color scheme that most professional websites use. People are comfortable with blue text for an unvisited link and maroon text for a visited link. Don't make it more confusing by going against the grain. It may seem original to you, but a user could find it annoying. For larger websites, you could adopt a "bread crumb" navigation system so that visitors can easily locate their whereabouts on the website.
If you have many pages and lots of information, you should seriously consider including a search box on every page of the website. Navigation can sometimes become too overwhelming for some web users, and a search box can be a comforting sight. If you think your website is a little confusing to navigate, you could also include a site map for the benefit of the website visitors.
If you're not sure where to begin with your web design, its always useful to look at some existing websites for inspiration. Intelligent navigation basically means making the relevant information easy to find. Its one of the most important aspects of user-friendly webs design. During the web design process, simply view the website from the perspective of the user. Youll then be on the right path to a more successful website.
Call Horton Group at 615-292-8642 for help with your web design project.