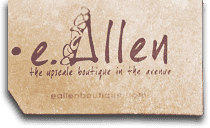 E. Allen Boutique Launches Stylish New Web Design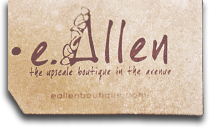 E. Allen Boutique is taking their style to the internet by highlighting their expertise in the fashion industry with the launch of a new website. Just in time for spring, new seasonal fashions are available for purchase directly from their new website. With the help of Horton Group, E. Allen brings their contemporary fashion designs to the web with new user functionality. E. Allen Boutique owner and fashion connoisseur, Elizabeth Allen, took her former blog to new heights with this web development project.
Our new online platform is the best resource to finding the most current fashion trends, says owner Elizabeth Allen. Swanky outfits and accessories are categorized by New Arrivals, Departments, and Season. Fashion aficionados can select from a wide range of items, from dresses to shoes to knits, while reading pertinent information about the fashion.
With warm earthy tones and sophisticated artistic textures, the website itself looks as if it was pulled directly from the E. Allen design workshop. Menus and images have stonewashed, and fabric frames encourage the viewer to engage with the content. The homepage features a menu held up by a thin strip of denim torn straight from the E. Allen Denim Bar, which also includes a wide selection of styles for men. Below the menu, a clickable slideshow highlights the recent collections.
E. Allen provides innovative and trendy styles for the high fashion shopper with a wide variety of accessories and personal styling tips. Some of the top designers featured on the E. Allen website include: Ella Moss, Lacoste, J. Brand, and 7 For All Mankind.