Horton Group's New Freelance Design – Our Company Facade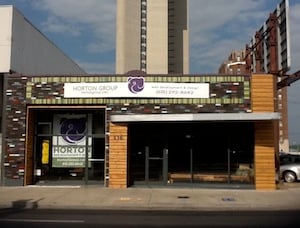 New to the downtown neighborhood, Horton Group is drawing attention with their most recent renovation; a multicolored brick facade facing Rosa L Parks Blvd. The Nashville web design and web development company has repainted the front of the space with over 15 different colors, including blues, greens, browns and more. With seemingly random placement, they come together with various shades of green that frames the company sign.
Prior to Hortons move from their old location near Centennial Hospital, the building was a hodgepodge of design elements, including a graffiti mural along the back wall and a metallic casing that framed the front windows. The exterior walls were dark brown and concrete gray. Not much of this old facade can be seen now after all the recent efforts of the Horton team.
The building has been home to a myriad of businesses throughout the last century, including a piano shop in the early 1980's, a cafe in the middle of the century and an auto-repair shop in the 1920's. The Horton team purchased the building late last year and hasnt stopped renovating since they unlocked the doors.
Along with the distinct color palette, original woodwork now frames the windows at the front of the building. The woodwork is carried throughout the building on the interior as well as the exterior.
Horton Group team
member, Isabel Ross, said, My suggestion to community members is to keep an eye on us because we have made great progress so far but we arent done yet!
Horton Group offers a full array of
marketing services
including graphic design, search engine optimization, social media marketing and more. All of the remodeling efforts have been carried out by the remodel team with Horton Properties.