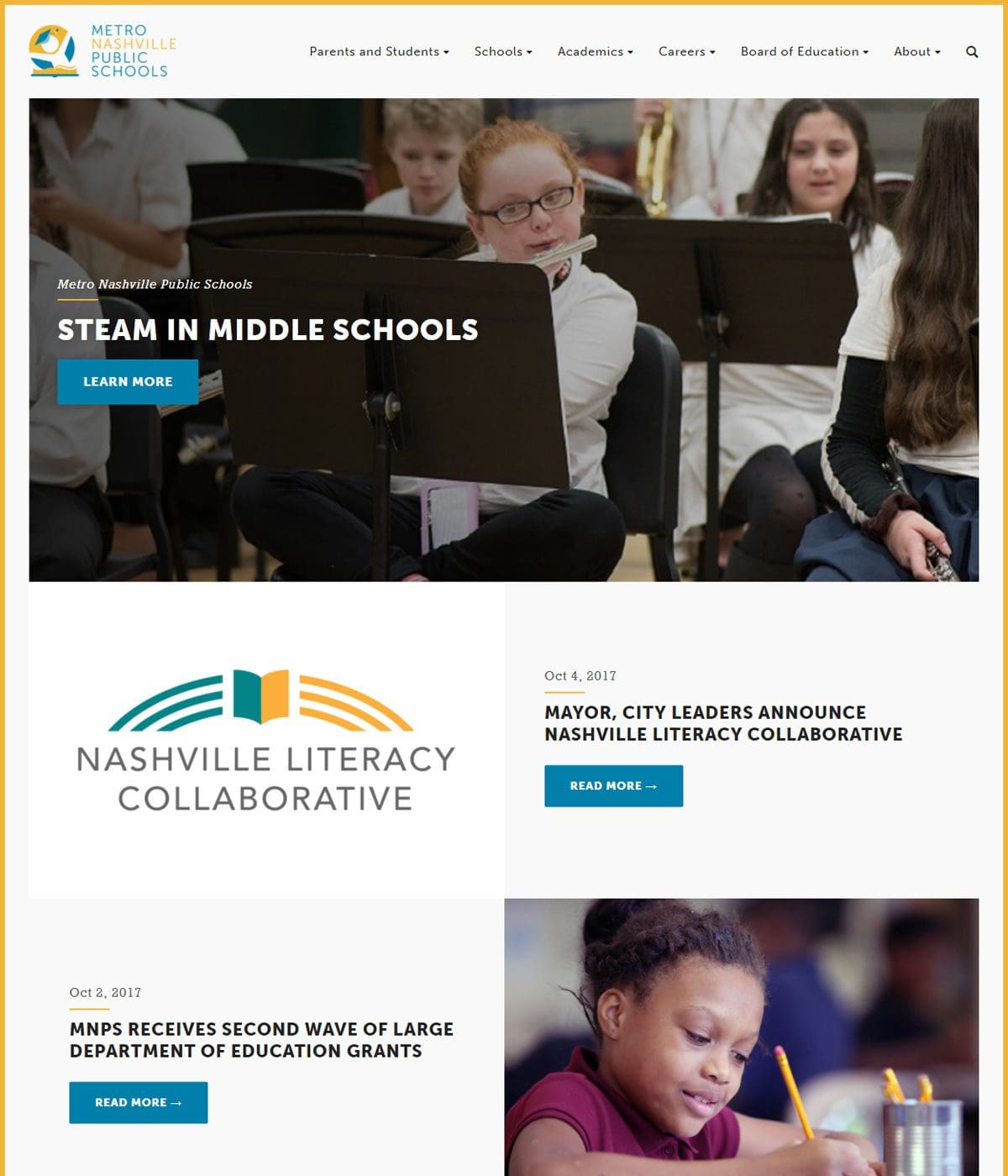 Website design and web development for Nashville public schools
Percy Priest Elementary School in Nashville, Tennessee has launched an innovative website, becoming the first metro school to initiate a web development project of this scope. The new website, PercyPriest.org features a robust content platform as well as sophisticated navigation, with areas of interest specifically targeting and benefiting students, teachers and parents. Lyn Hoyt, Communications Chair explained, "…creating this web site was a thoughtful process, spearheaded by the PTO and embraced by all involved as a necessary tool for communication, community building and fund raising. At the elementary school level we have seen a cultural shift with parents who expect to communicate by email and access information online. Our new web site gives the PTO the power of flexible content changes to reach our families. We now have a great web site designed to recruit volunteers, raise funds and collaborate online."
Percy Priest Elementary Catapults Interactive Website
Percy Priest is a top rated elementary school in Nashville, Tennessee. Opening its doors in 1957 Percy Priest teaches kindergarten through fourth grade. Percy Priest Elementary was recently voted the "Best Public School in Nashville" and the parents and teachers in the Percy Priest school district strive to raise funds and put forth extraordinary effort to make certain Percy Priest offers its students the best learning experience possible.
Percy Priest Elementary School's new website was developed using a modern Web 2.0 Content Management System, Drupal, and the new website was designed and developed by Horton Group in Nashville. PercyPriest.org has a unique and custom web design that engages parents and students. Parents, students and teachers have driven the web development efforts of PercyPriest.org and will be able to take advantage of handy website features such as online school calenders and wish lists. The Percy Priest school bulletin board grants access to members of the Percy Priest community to post current happenings at Percy Priest Elementary School. Angie Howard, Co-President of Percy Priest's Parent Teacher Organization had this to say about Percy Priest's new website development:
"This website project was made possible through the Percy Priest PTO and the very generous support of The Horton Group. Designed by a team of talented parent volunteers and dedicated web professionals at Horton, the new Percy Priest PTO website shows what can happen when schools and local businesses work together to improve public education."
Horton Group's web designers and web developers in Nashville are proud to help Percy Priest launch their interactive and multi-dimensional website that benefits the public school community. Percy Priest Elementary School in Nashville, Tennessee has become a technological pioneer in the metro school district.