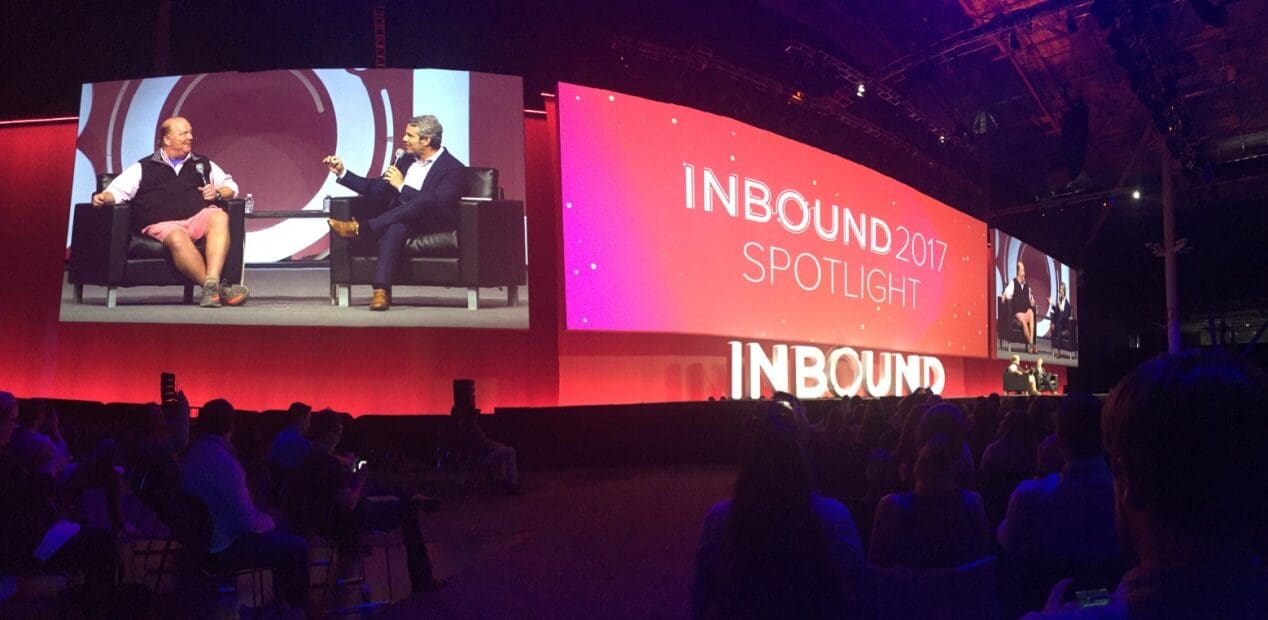 Josh's Takeaways from INBOUND 2017
When you are in the business of selling, you need to develop a structure to maximize revenue. Today's consumers have more information put in front of them than ever before. So with all this competition how do you differentiate yourself to find quality leads? Customers are taking control of their journey which will mean a lot to your inbound strategy.
Hubspot's INBOUND conference is designed as an opportunity to provide professionals with inspiration and education to transform their business so they can deliver a customer-focused experience that will set them apart from their competition. Through innovative talks and hands-on lessons, we learned about new technology that will help redefine the customer experience.
Josh Miller, one of Horton Group's Account Managers, attended INBOUND for the first time this year. He said, "Conversations are changing, and technology is evolving. If you don't adapt to these changes, you will become more out of date faster than ever before."
Building a Bridge Between eCommerce and Inbound
With Hubspot's new Shopify integration you can market your website's business and nurture your customers through data-driven strategies that provide results. This new feature allows you to manage products, apply keywords, and use reporting tools from just one location.
HubSpot for Shopify allows you to sync customer and order data directly from Shopify directly to your HubSpot account so you can utilize the cookie conversion data to drive sales, achieve bigger growth, and provide a customer experience that is uniquely your own. "[It's] helpful for clients with eCommerce that are looking to also have a marketing plan, because we can then put it on one platform to allow for better targeting and marketing," said Josh.
With this data, you can can segment your customers by lifetime revenue, average order value, products purchased, and purchase totals. This information will delight your customers through personalized emails triggered by their purchase and browsing history. Creating an automated email campaign enhances the selling process "because you know what people have been shopping for or what their purchase habits are, you can make them aware of new products or specials that are relevant to their interests," he continued.
One of the most significant features of the new integration is the development of the conversation. Customers are changing the way they shop and purchase their goods. They are now engaging with brands more than ever before through open discussions about a seller's products. They shop at any time of day, which means questions they ask may go unanswered if they are browsing during your out of office hours. "You might not be there to respond but creating some form of automation you could respond quickly and efficiently right away," explains Josh. A new automated system has been developed to allow for quick responses to routine questions, so your consumers get the information they need when they need it.
How to Get Them to Say Yes
Every customer, regardless of the industry in which they are making a purchase, has different tendencies and preferences. You need to know how to adapt your selling style, not only to close the sale, but to delight your customers in the process.
"[The session] was really focused on identifying your buyer's trait and presenting it to them in their style," Josh said of the talk. To achieve the best result, match your leads to the right persona:
Dominate
Seller: Your time and your customer's time is valuable! You need to be decisive, communicative, and goal-oriented when it comes to closing sales.
Customer: The best way to surprise a dominant customer is by providing value through testimonials and referrals. It's important to get to the point and quickly.
Influential
Seller: For a member of the sales team, you want to be fast-paced, friendly, and spontaneous to influence your leads. By using dramatic opinions and enthusiastic language, you can excite your potential customer with your product or service.
Customer: With an influential customer it's important not to rush the conversation. You want to listen to their problems and provide solutions by being precise and well organized.
Steadiness
Seller: Being friendly, supportive, and a great listener are must-have traits to provide a buyer with the Steadiness persona a positive sales experience. It's important to keep the customer's best interest in mind and ask questions to clarify what it is they need.
Customer: They want you to support their feelings and double check you understand their wants and needs. It's all about nurturing your relationship and ensuring them that you are interested in THEM and as a result offer personalized service.
Conscientious
Seller: The conscientious seller provides details, understands cautious decision making, and asks lots of questions for accuracy. They value competence and facts.
Customer: Use data from brochures and research to provide information they will appreciate. It's important to give them time to review information but don't forget to VERIFY. You will want to keep social conversation to a minimum, follow up allow communication with an email so that they can decide on their terms.
The Future of SEO
SEO is ever-changing, and its trajectory for 2020 will take us down a new path. Over the next three years, screens will be everywhere with any surface having some form of tablet to connect individuals to information. The implementation of this resource will also boost the "tablet's" functionality with augmented screens and access to Google Lens, Tango, and Visual services.
We're already seeing a growing importance for having a mobile responsive digital presence,and with the introduction of voice assistance apps such as Siri, consumers are beginning to explore the internet a little differently which will affect the direction of SEO. Predictive search is used when a consumer asks a whole, complex question like "where should I eat?" and expects a response based on their location and restaurants available.
SEO is fantastic because "small business owners can reach a larger audience group," says Josh. To stay relevant, you'll need to adapt to this new concept of internet search, by updating your SEO practices. The idea will be to optimize your website to accommodate for questions and answers through the development of topic clusters that revolve around a pillar page. The pillar page will act as the central hub of information where all of your customer's questions are answered. The "cluster topics" like blog posts and other services link back to the pillar page adding value to the questions asked by your consumers.
"So much work goes into ranking #1, but most people don't think about how to maximize that prized real estate," says Josh.
At Horton Group we can help implement the best SEO practices and utilize inbound marketing to turn your website into your most effective salesperson. Click below to schedule a 15 minute call with Josh to learn more of his insights from INBOUND and discuss how your organization can improve its marketing.