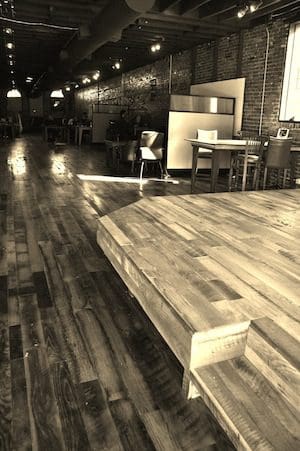 Horton Group Renovates Downtown Building and Opens Event Space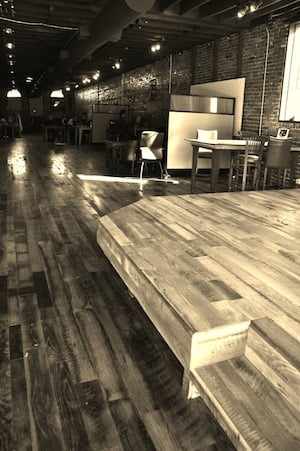 Horton Group is opening their doors again to community engagement, unveiling a community event and meeting space. The recently renovated Horton Group building in downtown Nashville is located just off the intersection of 8th Ave N and Broadway, and is now available for hosting special events, including business seminars, community networking and arts events. The Horton Group facility houses the creative work of Horton Groups Web Design and Development, and features an event space. The flexible open floor plan allows for community events of all kinds.
Horton Group has put extensive work into improving the historic building. When asked about the layout of the building, Leasing Manager Pat McCombs said, We wanted to keep the layout open and creative while ensuring its versatility for every occasion. This building is perfect for a variety of events, from art shows to business seminars.
Located directly in front of the free Music City Circuit bus stop, the facility provides a coffee-shop aesthetic with newly installed hardwood floors reclaimed from a Civil War-era tobacco barn. Horton Group graphic designer Jason Hapney says, The exposed brick walls fit perfectly with the antique hardwood. We enjoy the large storefront windows which really open the space up to Nashville's downtown community. Hapney added, The building has a great creative feel. We feel like we are in the center of a creative town, one that prides itself on artistic vision and professional innovation.
"A big part of the appeal to the building is its downtown location," McCombs added, "It gives us the ability to share part of our creative culture with the community in the heart of Nashville. Our building is a prime location within a short distance of downtown Nashvilles many popular attractions. "
The space has the capability to cater to a unique population with diverse needs. Within walking distance of Bridgestone Arena and a short jaunt to the Shelby Street Bridge, the building is even convenient for Nashville sports enthusiasts looking to host pre-game and post-game festivities.
Since 1996 Horton Group has been providing businesses, musicians, entrepreneurs and a variety of organizations in and outside of the Nashville areas with marketing services. Horton Group's marketing services include media buying,
web design
,
search engine optimization
,
web developmen
t and
social media management
. This isn't the first time owner Ned Horton has moved his business downtown, as he successfully managed the move for WRLT Radio (FM-100) in 1991.
For more information about availability for a community event please contact Leasing Manager Pat McCombs. The website is www.HortonGroup.com