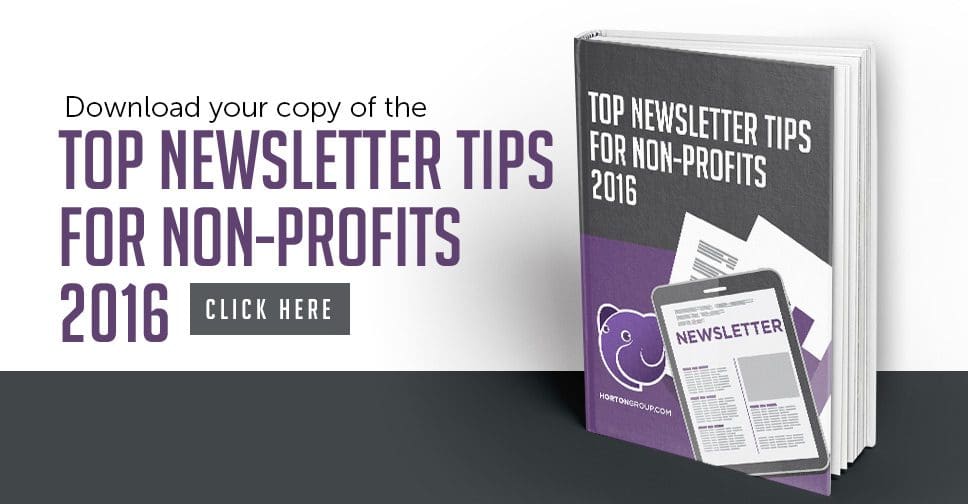 Horton Group Launches Non-Profit Email Marketing eBook
Horton Group, a full-service digital marketing agency in Nashville, TN is pleased to announce the publication of Top Newsletter Tips of 2016. The resource can be downloaded here.
Horton's new eBook features tips and strategies that marketing and communication managers within all sectors, specifically non-profits, will find illuminating and motivational. Engaging and informing stakeholders is the name of the communications game and e-newsletters are a great way to build support, generate buzz on social media and strengthen an organization's standing both online and within the community they serve. Developing a clear flow of information with the goal of fostering connection is critical to any organization's success.
Top Newsletter Tips for Non-Profits 2016 provides inspiration, suggestions and guidelines for developing strong subject lines, ideal word length, frequency, A/B testing, pre-header text, calls to action and more. Each tip is backed by industry-specific research.
"Content is critical for audience engagement; and an engaged audience is an active and informed one. Newsletters are not only a great way to share information about your organization with already committed members, but it's a great way to fire up your social media presence and broaden your organizational reach. Too often organizations and businesses lose sight of the importance of communication and this new eBook provides an accessible and encouraging take on writing effective newsletters," said Char Vandermeer, a former communications director and current Horton Group Content Writer.
About Horton Group
Horton Group is a full-service digital marketing and design agency headquartered in Nashville, TN. For 20 years, the agency has helped organizations in a wide variety of industries bolster their presence and business online. Using a team-based creative approach, Horton Group provides dynamic solutions in inbound marketing, website design and development, custom mobile applications, search engine optimization (SEO), social media marketing and more. Learn more about Horton Group by visiting HortonGroup.com.
Sharpen your skills as a Marketer by checking out our blog!