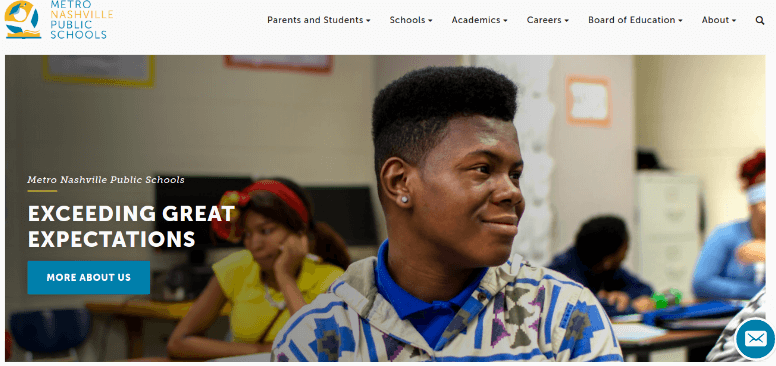 A New Look for Metro Nashville Public Schools
Metro Nashville Public Schools approached Horton Group at the end of May, looking for an agency with innovative ideas, a can-do attitude, and a responsive team willing to develop a new website over the span of one short summer vacation. With a hard deadline of August 1, Horton Group worked to create a responsive, content-rich, and easily navigable custom Squarespace website for the district.
The site launched just eight weeks after that initial meeting and helps usher in both the new school year and new Director of Metro Schools, Dr. Shawn Josephs. The website also smooths the transition for more than 88,000 students and their families by logically providing detailed information — just in time for the first day of school.
An Inviting Website: MNPS Before and After
Before the transition to a custom Squarespace website, visitors to the MNPS website were greeted by dated typography, an uninspiring design template, dense copy, and a large blue frame. Although many families access the site using mobile devices, the website had very limited mobile functionality.
Before:
In striking contrast, Horton designed a bright and cheerful custom Squarespace website that pulls attention immediately to the menu and important news items. With clear calls to action and navigation, it's easy to read on mobile devices and the clear CTAs encourage engagement.
After:
Identifying the Problems and Setting Goals
Not only was the previous MNPS website uninspiring aesthetically, but the site was also high-maintenance and difficult to maintain. Dated template design clashed with the district's well-designed banner elements, and excessive content and poorly organized information led to a negative user experience. As a majority of MNPS families access district information via cellular data, it was critical that the new website be designed with mobile users in mind.
Horton Group proposed a SquareSpace website built in Developer Mode with custom layout, integrations and functionality to better reflect MNPS's forward momentum and vision. The dynamic platform ensures that the new website is mobile first, user friendly, communicates with existing systems and databases, and is very easy to update and maintain.
During the first phase of MNPS website development, Horton Group:
Developed and designed a homepage for critical information and content like Top Stories, Quick Links for Parents, Upcoming Events, and a Facebook social media feed.

Developed filterable and searchable District, School Board, and School Events calendars.

Improved and organized policies and procedures so that documents can be searched by keywords or filtered by category and tags and quickly downloaded.

Made improvements to the Department Directory so users can quickly jump to a department and find the applicable address, email, phone or fax number.

Improved site search functionality.

Integrated analytics.

Migrated and integrated calendar data.

Set up clean URLs and 301 redirects to ensure that old website pages and files are SEO friendly and are properly redirected to the new website.
Results
After eight weeks of intense development, the new MNPS website launched, just days before the District opened its doors for the 2016-2017 academic year.
---
"The timeline was a challenge as was narrowing and focusing the content. But I feel like we met that challenge head on. We really worked hard to collaborate with MNPS and deliver the content that people are looking for. I think it's a lot more focused and user-oriented. Parents, teachers, and current employees are all better able to find what they need on the site without drilling through multiple menus and wasting time clicking extraneous links."
– Project Manager, Charley Campbell.
---
The custom Squarespace template means that MNPS has a one-of-a-kind mobile first design. The website administrators can enjoys standard Squarespace features like on-page editing, device view, social media integration, quality images, SEO optimization, real-time analytics, scalable hosting, and more.
---
"I can't believe you guys did this in under 60 days! It is really great. I searched it a lot for information, and I was able to get to everything very easily."
– Metro Nashville Public Schools Parent
---
ABOUT HORTON GROUP
Horton Group is a full-service digital marketing and design agency headquartered in Nashville, Tennessee. For 20 years we have helped organizations in a wide variety of industries bolster their presence and business online. Using a team-based creative approach, we provide dynamic solutions in inbound marketing, website design and development, custom mobile applications, search engine optimization (SEO), social media marketing and more. Working in close collaboration with our clients, our goal is to deliver remarkable results.
Horton Group is a Squarespace Circle Member, a certified HubSpot Agency Partner, and a Bigcommerce Partner.
For more information about custom Squarespace development, contact Horton Group today.