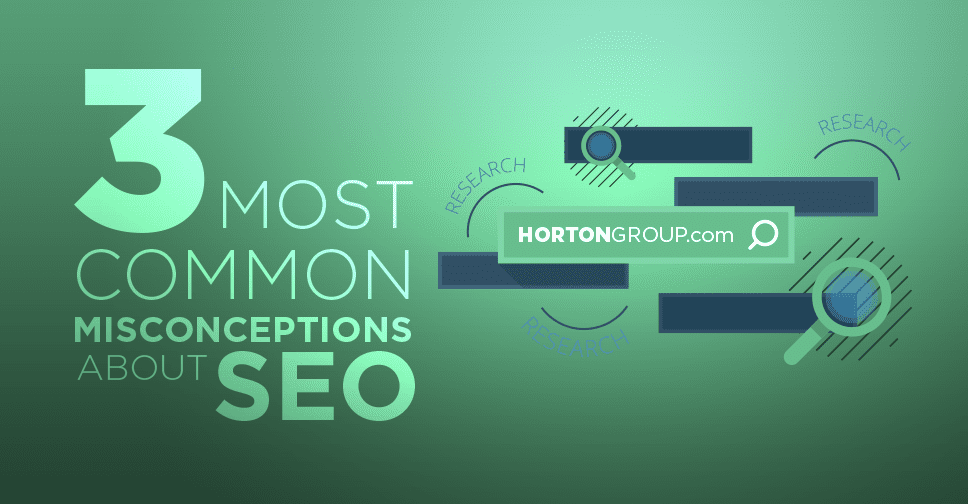 3 Most Common Misconceptions about SEO
Search engine optimization (SEO) has remained a hot topic in digital marketing for the past decade. While some argue the practice is coming to an end, others believe Search Engine Optimization is still one of the main components to your online marketing strategy.
Over the years, Google algorithm updates such as Panda, Penguin and Hummingbird have impacted the world of SEO. Because SEO has changed so much, marketers are having a hard time separating truth from fiction.
Let's look at the most common misconceptions about SEO today.
1. Link Building vs. More Content
For years link building was the way to go when it comes to increasing rankings and earning that first spot on Google. While link building still remains one of the top factors for better ranking, you may want to take a different approach when building links.
When it comes to both link building and content, it is important to focus on quality over quantity. Links are an important factor to your domain authority as well as quality content. Building links just anywhere on the web can do more harm than good.
Links should always come from websites with strong domain authority. Investing in writing good quality content that can be used for blogs, landing pages and ebooks that will earn you high quality links over time.
2. Keywords Will Earn You #1 On Google
In the past decade, keywords were the determining factor in helping your website to rank on Google and other search engines. Keywords are specific words that pertain to your product or service that individuals and prospective customers might search for online.
Yet, many people abused the use of keywords by practicing "keyword stuffing"—where a page contains as many iterations of one keyword as possible. In 2005, it wasn't uncommon to see something like this:
Welcome to BuyMoreShoes.com, where we have all the shoes you could buy! If you're looking to buy shoes, BuyMoreShoes.com is the website for you! Our website has more shoes than you could buy! Buy your shoes from BuyMoreShoes.com today!
While a comical and extreme example, this type of keyword stuffing caused Google to create algorithms to weed out spammy content, making it more difficult for websites to rank in search results. While keywords still remain part of an effective SEO strategy, it is important to avoid keyword stuffing and focus on the context. If you do practice keyword stuffing, Google will likely penalize your website.
3. Meta Descriptions Directly Impact Rankings
For many years in SEO history, people believed that meta descriptions had a direct impact on search engine rankings. Despite many SEO "gurus" harping on meta-description necessity, Google has remained in the same state for a long time "meta descriptions do not influence the search algorithm."
However, it has been shown that writing compelling meta descriptions can increase your click-through rates. Having higher click-through rates is part of successful online marketing, but through time, also legitimizes your website as relevant and useful to users, which does directly influence your search engine rankings!
Understanding these myths about search engine optimization can help you yield better online marketing results. What used to be pivotal increasing rankings doesn't matter as much today. Building good quality links and putting emphasis on quality content will help improve your rankings and attract valuable traffic. Using keywords wisely and writing compelling meta descriptions can enhance the overall search experience for users.