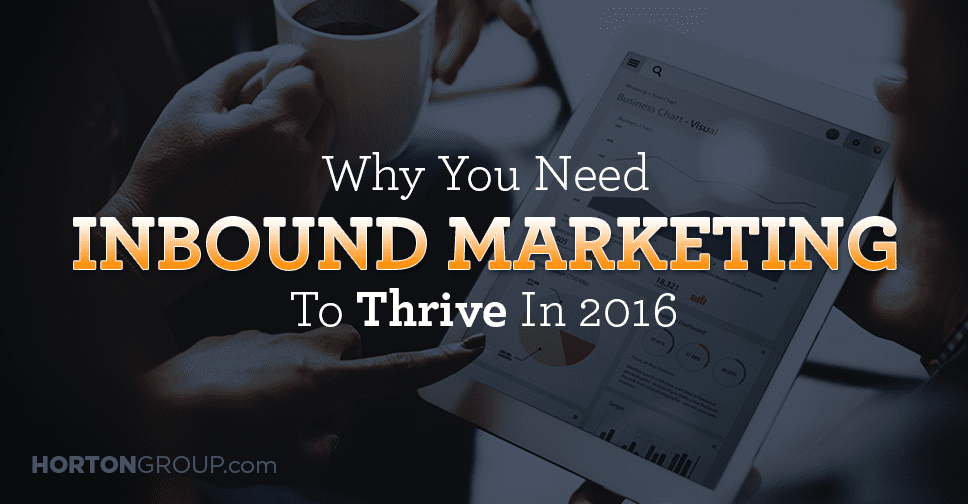 Why You Need Inbound Marketing to Thrive in 2016

Until recently, inbound marketing has been all about killer content that informs, entertains and sends potential customers your way. The best marketers already know that strong content is the most cost-effective way to promote a brand and generate a return. In 2016, though, content isn't just it, it's what drives many inbound tools. Weaving consistent content into blogs, integrating it with your social media strategies, and using email to support your brand are great ways to get the best bang for your inbound buck.
Inbound Marketing Versus Outbound Marketing
First, a quick work about inbound versus traditional marketing: Outbound efforts are in-your-face, pushy and aggressive. Instead of attracting potential customers by filling a need (as inbound marketing does), traditional marketing does its best to beat customers into submission through pop-ups, endless advertisements, and annoying cold calls.
Now, think about how you — and your buyers — use the internet. You use it to search for information. To find answers. Imagine being the source of that knowledge! When you provide the information buyers need, your company is seen as helpful, trustworthy and friendly. With inbound marketing, your customers won't feel like they have protect themselves from heavy-handed advertising tactics because you're just providing information they want.
What Is Content Marketing And How Does It Work?
Content marketing is the most popular form of inbound marketing and done well, it creates brand recognition and buzz. It's the easiest and most cost-effective way to generate qualified leads who quickly become happy, satisfied customers. The better your content, the more trustworthy your business and your product appears to potential customers. Correspondingly, the more trustworthy you seem and the more leads you attract, the more likely you will be to convert those leads to sales.
Let's say you just opened XYZ company, and you want to tell potential customers about the amazing services your company provides. To accomplish this, you post interesting, helpful and original content on your website that's related to the products and services you provide. If you own a pest control company, your content might include a blog post about eco-friendly bug treatments, or you might publish content that tells your visitors how different types of bugs cause different kinds of damage.
Your content must be optimized to rank high in search engine results. That way, when someone wants information about eco-friendly pest control, your blog appears near the top of the page. People who click on your blog will get the pest control information they need. If they want additional information, they'll be directed to your website. There, they can learn even more about eco-friendly pest control, or they can schedule an appointment with an eco-friendly pest control expert.
What Is Social Media Marketing And How Does It Work?
Social media is a great place to implement an inbound marketing strategy, promote your brand and attract new and engaged customers. For example, promotions are a pretty common and effective social media strategy: in exchange for a "like" the user is entered into a contest to win a valued prize.
Savvy inbound marketers are already using social media to engage audiences that are most likely to want what a particular business has to offer. When the marketers provide topical, interesting, catchy and entertaining information on Facebook and Twitter they engage potential customers who are already invested in the products and are likely to share product information with others. By engaging potential customers on social media sites, the marketer helps to foster brand recognition. The more recognition a brand gains, the more likely people will be to try products and services associated with that brand.
Email Marketing: It's Still Alive And Well
Another great way to generate inbound marketing leads is to ask website visitors to give you their email address in exchange for something of value. When you have a potential customer's email address, you can introduce that customer to new products or offer them periodic discounts on goods and services. Free gifts build trust with potential customers, and the more a potential customer trusts you, the more attractive your goods and services will become.
A recent study found that email conversion rates are up to three times higher than social media conversion rates, and that email conversion rate values are almost 20 percent higher than social media conversion rate values. HubSpot reports that email marketing creates almost 50 percent more leads at a third of the price when compared to other advertising strategies.
If that's not enough to convince you of the power of a well-crafted and well-timed email, consider these facts:
For every dollar spent on email marketing, the average rate of return is almost $50.00.
Over 90 percent of people check their email every day.
Sixty percent of B2B marketers say that email is still the best way to generate revenue.
Almost 50 percent of B2B marketers spend most of their advertising dollars on email marketing campaigns.
Inbound marketing that engages, helps and interacts with potential customers is shaping up as the marketing strategy of choice in 2016. Not only will it give potential customers easier access to needed information, it will also give Internet marketers more bang for their marketing buck.