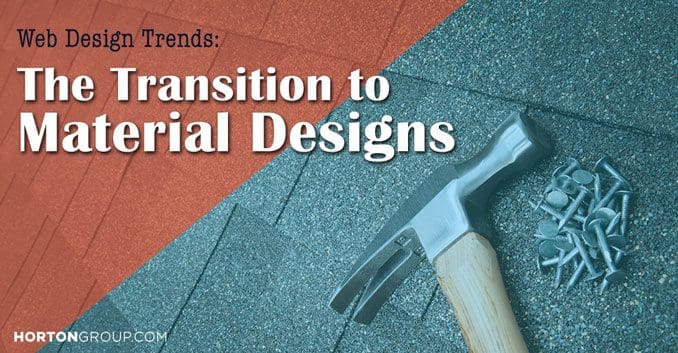 Web Design Trends: The Transition to Material Design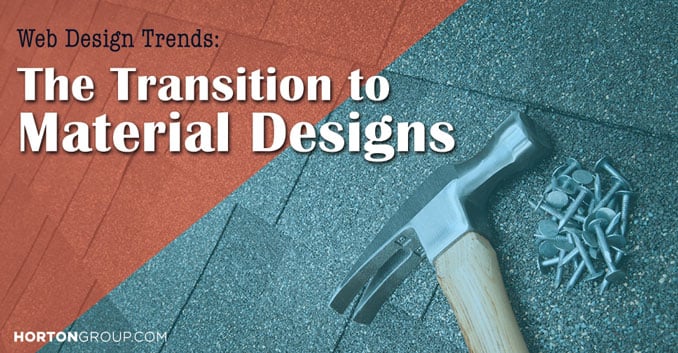 Google first introduced material design at the Google I/O conference on June 25, 2014. The technology company built the new design language with the idea that, just like words, physical objects exists for communicating. While material design is mostly used in conjunction with flat designthe trendy use of blocky flat icons with blocks of colorit is not limited in its application, but can be applied to many other types of design as well.
Google had two primary goals when developing their new visual language:
Create a visual language fusing classic principles of design with innovation and technology.
Design a system that would allow for a unified experience across multiple platforms
Since its formation, material design has been Incorporated into most android apps, including YouTube, Gmail, Google Drive, Google Sheets, Docs and Slides, Inbox, Google Maps, and all of the Google Play-branded apps. In addition, the design language has been used to a lesser extent in Chrome browser and Google Keep.
Material design is not something Google created sporadically, but has been part of an evolution of design the company has been working on for the past several years. From the redesigned flatter buttons Google introduced in 2011 to Google Nows layered cards, the entire process has been calculated and intentional.
Core Principles of Material Design
Several core principles guide the implementation of material design. The most prominent components of material design as laid out by Google are as follows:
Material as a Metaphor: Think of design as material, like paper and ink, yet open to imagination and magic. The physical exists for communicating. Yet, unlike paper, it can expand and reform intelligently
Be Bold, Graphic and Intentional: Use the basic elements of print-based design, incorporating deliberate color choices, large scale topography, and the intentional use of white space.
Use Motion to Convey Meaning: Present objects to users without breaking the continuity of experience. This includes providing seamless transformation and reorganization.
Learn from Google
Look for material design to gain traction in the upcoming year, as more and more websites and apps begin utilizing the language in their designs. To gain a better understanding of material design, just take a look at the various apps Google has recently released or updated. Also, you can watch this video on material design, which helps display the functionality of the language.
If youd like more web design tips or are interested in having a team of professionals design your website for you, call Horton Group today at (615) 292-8642!
{{cta('61bacec3-8918-4607-9e8b-2c992a593af8′)}}