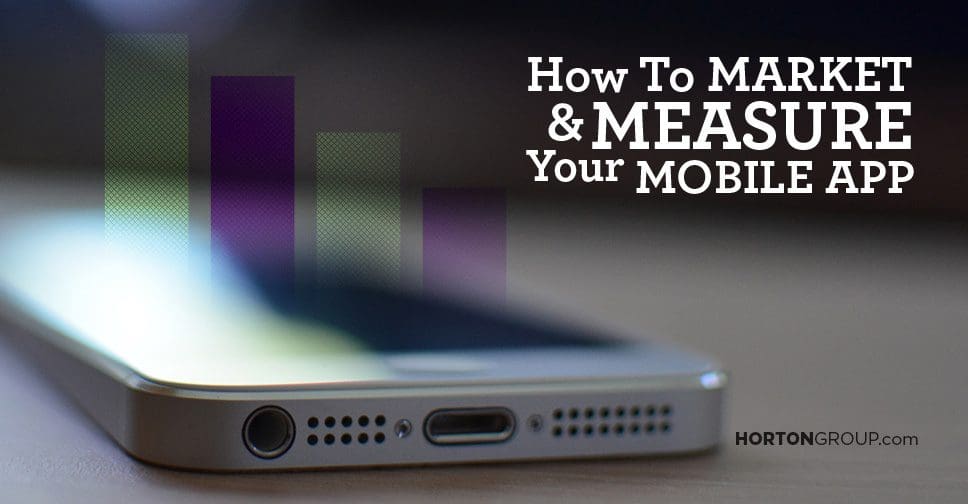 How To Market and Measure Your Mobile App
Smartphones and mobile devices have revolutionized how consumers live and interact—plain and simple. According to Informate Mobile Intelligence, consumers spend an average of 4.7 hours per day on the phone. Furthermore, Nielsen's research found that 89% of time on phones is spent in mobile apps. When we put the research together, we find consumers on average spend roughly 4 hours and 11 minutes in mobile apps every day.

Here's the daunting part. Localytics reports 20% of mobile apps are only opened once, and Nielsen concluded that 70% of total mobile app usage comes from 200 total apps. For such a highly tapped market, the competition creates a high barrier to entry for anyone interested in developing a mobile app.
However, for how difficult the market is, a mobile app holds the potential for huge payoffs in the digital age. A mobile application creates a convenient channel for both you and your consumer to interact. Whether you are designing a customer loyalty program, an online ordering service or a game, you need a plan to market and measure the success of your mobile app. This post serves as a guide for you to get started.
Creating a Measurement Plan for Your Mobile App Marketing
Consumers will only download a mobile app if they see a clear benefit. Whether it's exclusive offers or content, the appeal has to be compelling enough for a user to follow your business to Google Play or the App Store and download the app. Recall that 20% of mobile apps are only opened once, so in addition to the value in downloading an app—the app should be constructed such that the consumer has good reason to consistently make an economic exchange, whether that be purchasing goods, digesting content or promoting your business.
In order to monitor your app's success in reaching your target audience, we recommend tracking the following key performance indicators (KPIs):
Downloads
Opens
Session time
Screens visited
Revenue generated
Depending on your business goals, you will likely develop more KPIs to measure the success of your mobile app. However, these five providea good start. Number of downloads is a good indicator for the "shelf appeal" of a mobile app, while opens, session time, screens and revenue are all indicators of how well the app engages users.
We recommend implementing Google Analytics to track these KPIs. In order to do so, a developer will have to implement a Software Development Kit (SDK) for both Apple and Android. Consult Google's documentation for more information on the setup of mobile app tracking and analytics.
Encouraging Mobile App Downloads
The first step to marketing a mobile app is getting consumers to download the app. The most effective way to encourage a consumer to download the app is to provide an initial incentive, like product discounts, free shipping, app credits or a trial period with premium content.
Most businesses will stop here, and that is a big mistake. Lifetime user engagement with a mobile app is highly correlated with the amount of usage by a user 24 hours after download and one week after download. This means your business must have a defined plan for engaging users within these two timeframes to maximize success for your mobile app. Push notifications, exclusive offers, games and engaging content are all good strategies for maintaining consumer attention.
Maintaining User Engagement for Your Mobile App
Getting users to download your app is only half the battle. Maintaining user engagement is the real key to creating value through a mobile app. This is why, when we help businesses with mobile app marketing, we encourage mapping out a plan for engaging the user for the following timeframes:
24 hours after download
One week after download
Indefinitely
Basically, the user should always have incentive to return to your app. Typically, returning users will be loyal customers, so keeping a steady stream of rewards will show your best customers that you value them.
You may have seen all the ads for mobile games on TV. These types of games willingly invest heavily in advertising because they have strong plans in place to engage and monetize users with app credits, new levels, new characters, gated content and more. Although any mobile game not named "Angry Birds" has a short life in the spotlight, your mobile app can build customer loyalty and generate revenue for years to come.
Everything Is About To Change, and So Should You
Ok, maybe that headline was just to scare you, but with the way the digital landscape has consistently changed year after year, a business must be more agile than ever to capitalize on digital trends and keep pace with evolving best practices.
First and foremost, a mobile application is never finished. Once the product is launched, much like a car, the application will need constant maintenance and tweaks to guarantee its performance. And as consumer demands evolve, your business may see the need to roll out new features and benefits to continue to pull value from your mobile app. For example, wearable tech provides a look into the future for new ways consumers will engage with mobile apps. In a day and age where most anything can be connected, the possibilities really are endless.
Conclusion
A mobile app means significant investment and upkeep for a business, but also provides a valuable opportunity to service today's connected consumer. If your business is ready to move into the digital age, contact Horton Group today!