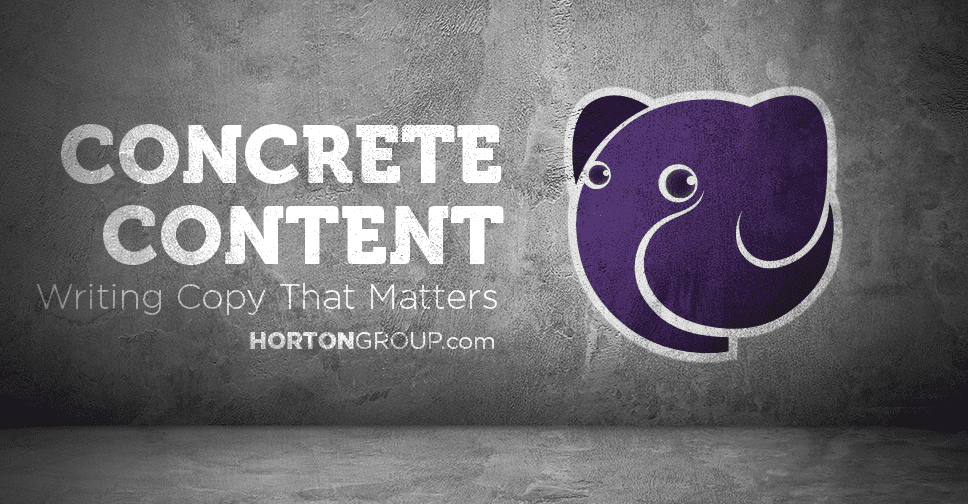 Concrete Content: Writing Copy That Matters
In days of yore, blogging was the domain of hobbyists looking for a place to share recipes, gardening tips, travel photos and Dear Diary confessions. That world is still thriving, certainly, but blogging has found a true home in Inbound Marketing. In the world of Inbound and search engine optimization, blogging is a no-brainer, making it possible for businesses to get mileage out of long-tail keywords as well as develop meaningful content to attract and convert visitors.
In the quest to attract new visitors and convert those visitors to leads, blogging is your friend. Before diving into the word pool, though, take a look at your buyer personas, talk to your staff and do some Googling. Because really, that's what it's all about.
As fresh, relevant and up-to-date content is key, begin your blogging program by generating a solid list of robust content ideas. Talk to your sales and marketing teams to find out what questions they answer most frequently as well as what roadblocks buyers are experiencing in their journey to purchase.
Once you have a comprehensive list, it's time to put pen to paper. Or, rather, keystroke to screen.
Focus on Your Ideal Buyers
Here's the tricky part: while your blogs should work to achieve your business's goals, the content must meet the needs of your buyers by providing useful, educational and entertaining content. As wonderful as your company is, your blog isn't the place to toot your own horn. Instead, create useful and compelling content that weaves in your long and short tail keywords naturally. Don't go beating your readers over the head. It won't help your cause.
Give them what they want.

One of the keys to a successful modern SEO campaign is to attract the right visitors to your website. In other words, write blogs that answer questions and make life easier. Write content that attracts visitors and keeps them coming back for more.
Offer them something for nothing.

A blog provides you with a place to engage visitors, educate them, and generally make their lives easier. Ideally, of course, you'll eventually move beyond flirting and begin dating. But for now, take it slow, enjoy the journey.
Position yourself as an expert.

Write well-crafted, well-researched and professional-sounding blogs. It's okay to have fun with tone—you want readers to read and

enjoy

your content—but

keep it professional.

Feel free to link to external sites that lend authority to your subject. Share the love.
Keep your posts targeted and focused.

Pick a topic and stick to it. If you find that your attention is wavering, and you're chasing after tangents, stop. Take note of the tangents (they're undoubtedly fodder for future posts), but focus. You're offering advice about one thing and one thing only. Focus.
Choose your words carefully.

Now that you've written a well-researched, fun, relevant and targeted post, it's time to do the heavy lifting: writing a title. Keep it short, 50-60 characters, and employ those keywords.
Feeling a little tongue-tied? Fingers stumbling at the keys? Contact Horton Group today! 615.292.8642.
{{cta('61bacec3-8918-4607-9e8b-2c992a593af8′)}}