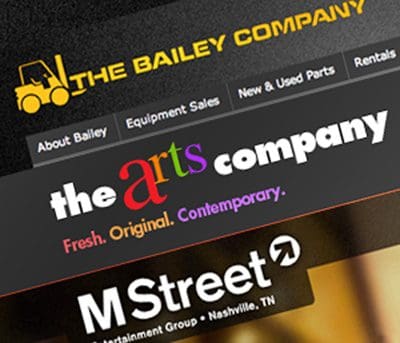 About Web Design
We feel it is important to start strong, so we jumpstarted 2013 the right way. We have already launched some fantastic new projects. This past February we had a total blast working on several unique websites.
February's launches included:
MStreet The Nashville contemporary dining professionals with four great restaurants in The Gulch.
The Bailey Company One of the nations top forklift truck dealerships and a landmark Nashville service company.
The Arts Company A pillar of the arts community Nashvilles very own original contemporary art gallery.
Dining, industry and the arts we enjoy a little spice and variety when it comes to helping businesses and organizations improve their online presence. We are proud of the work we have done and know our customers are as well.
Here are a few small but important details covering these most recent launches.
Their food, atmosphere and service rock our world, so we worked hard to reciprocate. We started this project with some preliminary web design mocks that blew their culinary minds and then finished out strong with a complete Drupal website build. Information on each of their restaurants (Kayne Prime, Virago, Tavern and Whiskey Kitchen) can now be accessed from a single online location.
Make a reservation, check out a menu or find out about upcoming events when you sign up for their online newsletter. The MStreet website is in a class of its own, just like the great food and drink each restaurant serves up on a daily/nightly basis.
A Google Maps search will reveal there is no M Street in Nashville, but what you will find is four great options for fine dining and a contemporary atmosphere located right in the heart of Music Citys hip and happening Gulch district.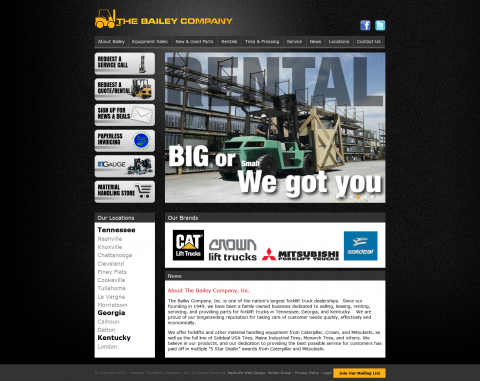 The kind of forks this client uses wont help you cut into a tasty steak or a delicious appetizer at M Street instead The Bailey Company employs the power of combustion to exhume rugged lifting muscle over the heaviest and most cumbersome objects.
For this project we worked closely with the family-owned forklift dealer to manage a complete redesign of their website, improving the overall user experience and functionality. Our goal was to take the heavy lifting off their backs with a clean Drupal theme and plenty of web development updates. The addition of an improved menu system, with sections specific to dealer locations was one effective element that helped get the job done.
The Bailey Company sells, leases, rents and services forklifts and forklift parts. They wont help you move your couch, but if you are located in or near Tennessee, Georgia or Kentucky and need a powerful machine to lift you to the top of your trade give them a visit.
The Arts Company came to us for help. Their project was stalled and they wanted to get their website up-to-specs so their vast collection of original artwork could be easily organized online.
In the late stages of their website launch, we were asked to help with the migration of all their content over to the Joomla CMS. We also added a few finishing (and fine) touches here and there, giving them the ability to post, manage and create content with much less time and effort. Original art at Nashvilles premier gallery is now not only easier to find, but easier to add. Take a few minutes to stop by their online gallery today and see whats new.
After you check them out online, we recommend you make the trip for an in person experience. Located in the heart of downtown Nashville at 215 5th Avenue, The Arts Company displays some of the finest, high-quality, original artwork in the area. We also suggest hitting the streets with them for their monthly First Saturday Art Crawl.
Stay tuned for more Horton Highlights as we showcase our wide range of marketing services and keep launching more websites.