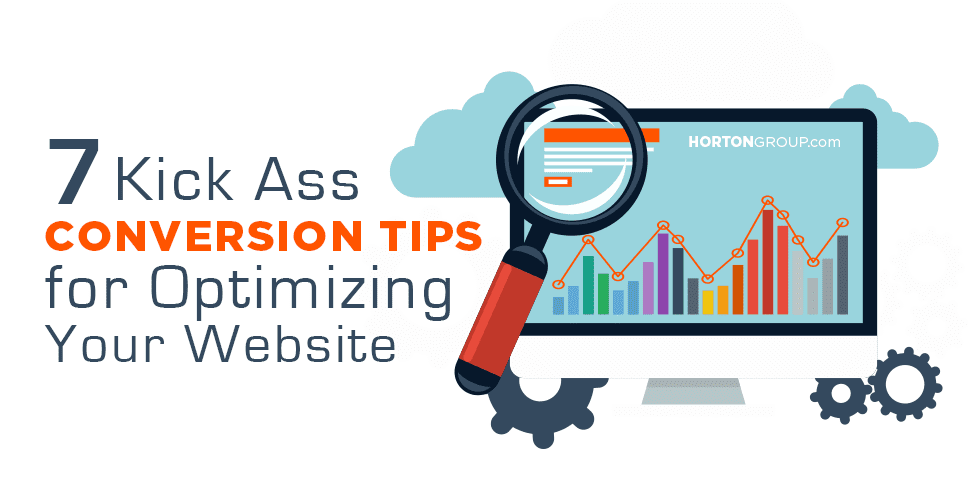 7 Kick Ass Conversion Tips for Optimizing Your Website
You've worked hard to create and solidify your brand. You've also probably spent countless hours (and plenty of hard-earned cashola) on developing a stellar website. Looks so great, it brings a tear to your eye. So why isn't it converting? Well, the truth is, no matter how spectacular your website may look, if you've not taken the appropriate measures to optimize it, you're missing the mark (a.k.a. losing sales).
The good news is, this is completely fixable. In fact, if you apply the right strategy, you can turn things around and start generating more valuable leads almost immediately. That said, let's dive into 7 of the most effective optimization tips for improving your conversion rate.
Visualization Matters. A lot.
Did you know that 70% of a person's sensory receptors are concentrated inside the eye? Furthermore, the human brain processes images at a rate of 60,000 times faster than written text. In other words, visual data is absolutely essential in website optimization. If your site reads like an excerpt from The Grapes of Wrath, you're absolutely, positively losing visitors as a result. You need to strike a balance between text and images that are appealing to the eye.
Content is Still King
Relevant, fresh content optimized for conversion will always be the key to optimizing a business website. Why? Well, there are actually a number of reasons. First, it will help you rank better in the search engines. This will bring more traffic to your site. Once those visitors reach your site and start to consume the valuable content you're providing to them, they'll want to come back for more. They'll also want to share with their own networks. As a result, you'll develop long-term relationships, which is the ultimate goal of marketing.
Don't Underestimate the Power of Emotion
Most people make buying decisions based on emotion, not logic. Are you capitalizing on this fact? Your content should be written in a way that establishes a personal connection and speaks to the needs and desires of your target audience. It should identify their pain points and effectively demonstrate how your product or service is the ideal solution. Make an emotional connection and you're almost guaranteed to make a conversion.
Make Things as Easy as Humanly Possible
If you want people to convert, whether it's to sign up for your newsletter or purchase your product, you have to make it painless for them to do so. If things are hard to locate on your website, your audience will lose interest and move on. If opting in or placing an order requires filling out a 10 page document and providing a DNA sample, people aren't going to bite. Make converting as simple as possible, and you'll have a much better chance of achieving your objectives.
Use Calls-to-Action and Create a Sense of Urgency
Getting a prospect to pull the trigger and convert often requires a little bit of a push from you. If someone visits your site and there's no real urgency to subscribe or buy, they'll probably put it off. Unfortunately, few of these procrastinators will actually come back to complete the deal. Provide gentle persuasion by always including a call-to-action wherever your audience will interact with your brand. Adding a sense of urgency (such as "limited time only" or "act now") can also be very effective.
Ensure Relevance and Consistency
If you've got a killer ad out there on the web but it leads to the wrong page (or worse – a 404 error), you've wasted your time, money and energy. If you want people to complete the process, make it seamless. Ensure that any and all ads lead to the appropriate (relevant) landing page. Don't make your prospects have to find their way to what they're looking for. Serve it up on a silver platter and tie a napkin around their neck.
Don't Forget to Test. And Test. And Test Again
Unfortunately, there's no magical formula for optimizing a site to increase conversions. Something that works smashingly for one business may be a colossal flop for another. The key is developing a marketing strategy that is most closely aligned with your target audience, putting that plan into action and then testing it on an ongoing basis. The more you analyze results, the quicker and more effectively you'll be able to tweak your approach to make it better.
Is your website performing as well as it could be? These optimization tips should help point you in the right direction. And if you need more help, don't sweat it. That's what we're here for. Give Horton Group a call and let's discuss how we can transform your website into a high-converting, lead-generating machine.