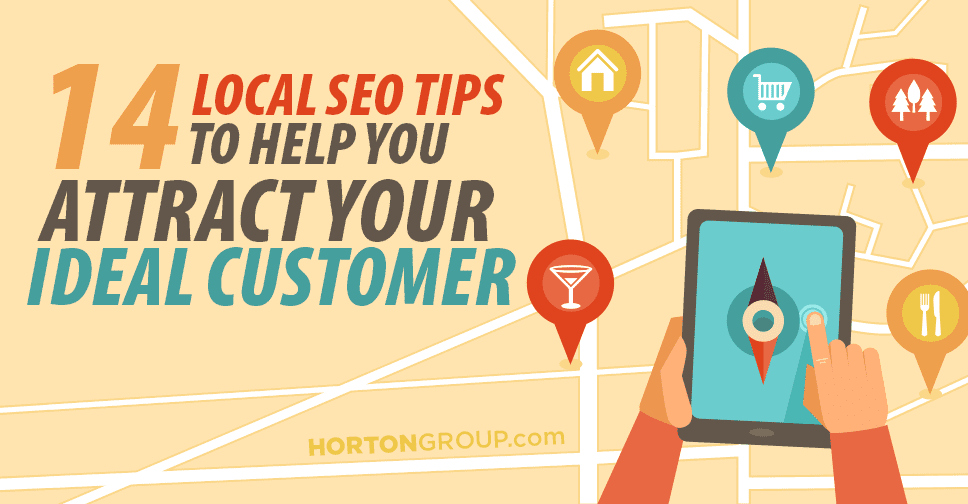 14 Local SEO Tips to Attract Your Ideal Customer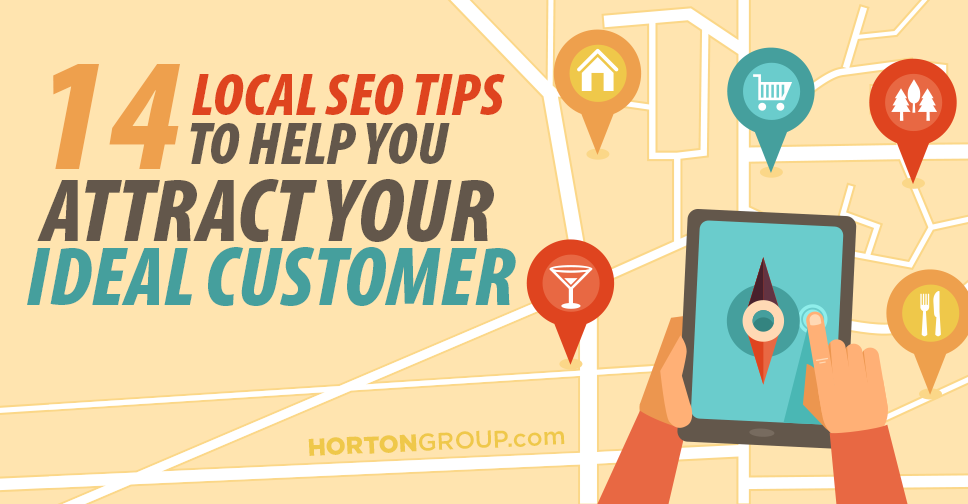 For most small to mid-sized businesses, optimizing for search engines is about attracting a targeted – i.e. "local" – audience. Simply put, your goal for all your SEO activity should be to get prospects in your geographical area to find your site when they search for whatever products or services you offer. To make things a little easier, we've put together a handy checklist to ensure that you're truly maximizing your efforts for the best return.
Relevancy is key. Use relevant keywords to your industry and type of business without overdoing it. First and foremost, you need to be certain all of your web content contains targeted keywords while also not "keyword stuffing". Also separate each page for each service (i.e. Dentist, Cosmetic Dentist, Dental Implants, etc). Remember, Big Brother…er, I mean Google…is watching and will be looking for a healthy balance between keyword optimization and quality of content.

Include geographical information. Not only should you be leveraging targeted keywords, but you should also be including your geographical info throughout your website content and other marketing activities online. This increases the chances of your site being found by your local audience. If you're in Nashville and you're a dentist, then you should include the right keyword phrases like "Nashville Dentist", "Dentist Nashville", "Nashville Cosmetic Dentist" or whatever is relevant to your category. Google has a great tool called Keyword Planner where you can find out what popular keywords searchers are using to find a business like yours. Use this tool and then thread 2-3 of the best keyword phrases into your content on each page.

Content is king. Yeah I know we've all heard that before, but it remains true to this day. On each page of your website, Google recommends a minimum of 300 words describing your business and/or service. If your website has "thin content" or less than 200 words, you will get a notification from Google telling you to add content or it will affect your rankings negatively. Plus it shows that you know your stuff.

Optimize your "Contact Us" page. Many businesses make the mistake of only including an email and telephone number on their contact page. Optimize this prime real estate by including your full legal business name or DBA, address, and phone number. This is also called a local citation or NAP listing and it needs to be identical to whatever you have listed on Google, Yelp, Citysearch, etc. You may even want to embed Google maps to boost authority and create a better user experience. Pro Tip: Use "Suite" instead of "Ste" if you have one. Pro Pro Tip: Use Schema markup with your address on Contact Page as well. Hint: Google owns Schema.

Think mobile. In a world where 4 out of 5 consumers use their mobile devices to shop and 70% of mobile searches will lead to an action within an hour, if your site isn't mobile-friendly, nearly half of those people will move on to a different search result. This equals lost revenue for your business. Make sure your SEO efforts include responsive design and a mobile-friendly user experience. Not sure if your website is mobile-friendly? Use this free tool from Google here.

Verify your Google Business page. This takes a little work, as it requires you to enter a verification PIN which you will receive in the mail, but considering the page is driven by Google itself, it's imperative to your local search performance so don't discount this important step.

Get Google Plus set up and start using it. If you've ever conducted your own local search, you've probably noticed that Google Plus pages rank at the very top of search results – often even higher than the business' website itself. Take advantage of this by optimizing your Google+ page by filling it out completely and be sure to include a link back to your site.

Verify your listing with Yahoo. We talk about Google a lot, but Yahoo comes in not too far behind the search engine giant in terms of ranking, so remember to create and/or claim your local page here as well.

Add your business to Bing. You guessed it. Along with Google and Yahoo, the search engine Bing also has a place where businesses can claim their local listings. And while Google is still at the top, the others are gaining popularity so it's helpful to cover all your bases.

Set up accounts on various review sites. 3rd party review sites like Yelp and FourSquare are bringing local search to a whole new level. Rather than wait for others to start the process (hopefully with positive reviews), be proactive about it. Reviews can make or break your business. So ask for them. Still not convinced? Check out the stats here for how influential reviews are.

List your business on local directories. Do some digging and find any and all local online directories upon which your company should be listed and then get cracking. The more your listing shows up, the better it is for your SEO. Just be certain to choose reputable sites only, otherwise you could end up with the opposite effect. Here are a list of top local directories listed by city and also by category.

Set up accounts on social media websites as well like Facebook, Twitter and Linkedin. Add your name, address, phone, website url, business description, and other important information where applicable. Once you've created these accounts, sign up for the free social media posting tool called Buffer and begin scheduling 3-5 posts per week to start. This activity on well optimized social media sites will help you with your local presence as well. With enough activity, we've even seen social media accounts rank on Page 1 for major search terms.

Set up your blog page on your website and schedule 1-2 hours per week to write for your business blog. You know your business better than anyone. Start writing weekly blog articles about industry trends, what's going on in your office, how to articles, and/or Buzzfeed style tip posts (i.e. 7 Tips for Better Dental Health). Post these live blog articles to your social media showcasing your expertise and interact with your audience. The increase in clicks to these articles and your website will also help your visibility and SEO rankings. Original content is typically most viral.

Sharing is caring. Make sure to include social sharing options on your website and blog page. Social signals or social references are influential in ranking your business and increasing brand awareness. Because we mainly work with WordPress, we typically use one of the following plugins: Flare, Digg Digg, or Sumo.
The bottom line is, your main goal with all online marketing is to get your site as high up the search engine ranking as possible. This checklist will help you make sure all your bases have been covered and improve your performance moving forward.
{{cta('50acfdae-ab57-47fe-98c8-3d26f356cfb8′)}}