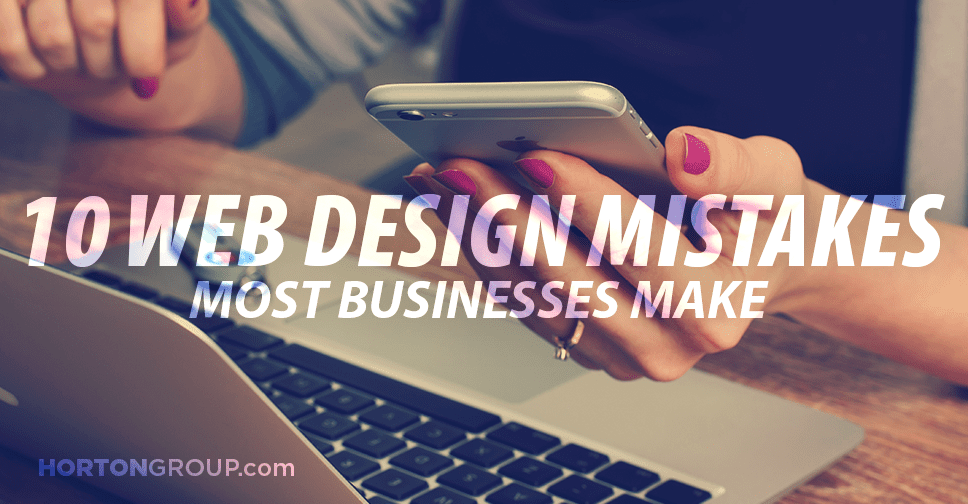 10 Web Design Mistakes Most Businesses Make
In today's digital world, having a compelling website is no longer just an option for local businesses. It's a necessity. I like to tell people to imagine their website as the virtual front door of their company. What kind of first impression does yours make with your prospects? This is especially important since studies have shown that it typically takes a visitor around 59 seconds to decide whether to stay on a website or move on.
In other words, you've got less than a minute to capture the hearts and minds of your prospects or you can kiss them goodbye.
It's simple, really. If your site isn't in tip-top shape, you're losing business as a result. That said, let's take a look at the top 10 web design mistakes local businesses make so you can avoid them on your own site.
"Click Here to Enter." Imagine if you walked up to a business, opened the door to enter and found….another door to walk though. Strange, no? This is basically what you're doing when you have a "welcome" or "click here to enter site" flash page. You've already managed to get someone to visit your site. Don't make them jump through another hoop to actually access your content.
Poor User Experience. The goal of your website should be to make it as easy as possible for people to do business with you. If your site is cluttered with slow-loading images or is difficult to navigate, I guarantee it's going to turn people off. Think simple, straightforward and easy.
Crappy Content. Big Brother, aka Google, has made it abundantly clear that web content must be of good quality if it's going to rank well. Not only is this important for getting your site found online, but it's also a key component of getting visitors to stick around. Give them something worth reading or they'll get it somewhere else.
Hidden Contact Info. Ok, so your website is the virtual front door to your business, but you eventually want it to lead people to your physical front door, right? Then make sure it's easy for them to locate your contact information. For best results, focus "above the fold" (i.e. the area on your website that's visible without scrolling down).
Too Busy. Images and videos are great, but only where relevant. Don't bombard your visitors with flashy design that's too busy, or you'll lose them in the shuffle. It'll also slow your site down and make it difficult to navigate. A few well-placed pictures and maybe a video here and there should suffice.
Poor Color Combos. Did you know that color can actually have a psychological effect on the human brain? It's true. That means if your website is splattered with ugly or mismatched color combos, you could be inadvertently turning visitors off without a word. Make sure to carefully choose your color schemes so they're visually appealing to your audience
Pop Ups. Seriously? Pop ups are so 1990's. And they're really annoying so stop it. Seriously.
Dead Links. Oh yay! A link to another page I might find useful! Oh, wait…it's just a 404 error. Nothing is more frustrating to visitors than a bunch of dead links. It's also a great way to get Google to push your site down in the rankings so stay on top of any and all links to make sure they're all active.
Audio/Video. Ever innocently pull up a website only to be frightened out of your skin by the sudden onslaught of someone's disembodied voice or a random song playing? Automatically loading audio or video is a great way to terrify your visitors into closing your site as quickly as humanly possible. If you absolutely must have audio or video clips on your site, make sure your visitors have the option to click only if they want to watch/listen.
Stale or Outdated Information. You want your website to demonstrate how professional and attentive you are, right? So what do you think it tells visitors when they go to your site and find info about an expired event or products you no longer offer? Make sure the information you have on your website stays up to date or you'll risk making a bad first impression you may not be able to recover from.
If you're not sure whether you've committed any of the above-listed blunders on your website, try looking at things from an end-user's perspective. Go online and visit your site. Does it load properly? Can you navigate easily and locate contact information quickly? Is it appealing to the eye? If any of these things are off, it's probably time to consider a redesign.
The good news is we can help with that! Give us a call today and let us conduct a detailed site analysis to help transform your web presence into a powerful lead-generating machine.
{{cta('61bacec3-8918-4607-9e8b-2c992a593af8′)}}