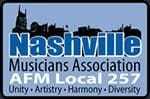 110 Reasons Why Nashville is Music City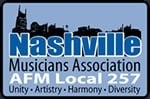 This year The Nashville Musicians Association, AFM Local 257, will be celebrating their 110th anniversary. Currently in production, a special edition of their quarterly publication will pay tribute to the city of Nashville as a historic and contemporary center for the musical arts. This edition will center on all the players that have been instrumental in molding Nashville into the musical mecca that it is now including the songwriters, artists, producers, event venues and more.
This summers NAMM conference provides the perfect platform for The Nashville Musicians Association to get the word out on the musical diversity Nashville offers. Held annually in Nashville, TN, The National Association of Music Merchants Summer Conference brings together members of the music community from all over the world. The conference plays host to manufacturers, media, and over 10,000 other registrants. While there, attendees can visit The Nashville Musicians Association booth and learn for themselves the 110 Reasons Nashville is Music City.
Unbeknownst to most, Nashvilles musical history started long before country music ever existed. Associate publisher of The Nashville Musician, Daryl Sanders, has spent extensive time researching Nashvilles long musical history. As early as 1815, when Nashville was still a frontier town it had a music school that taught classical piano and violin, stated Sanders. The article will include obvious entries like The Grand Ole Opry, but the real treat for readers will be learning about the many aspects of the Nashville music scene they didnt know.
The article will cover interesting points in Nashvilles music history and focus on some of the less commonly known aspects of Nashvilles long-standing musical traditions. The main goal is to broaden a preconceived notion of what Nashville is in relation to the music industry as a whole. One of the ways The Musician hopes to accomplish this is by highlighting a few well-known artists and songs that possess Nashville roots outside of the country genre. Such stories include Jimi Hendrixs early years spent in Nashville honing his chops, and the fact that the multi-talented Jack White calls Nashville home.
Also included in next quarters publication will be album reviews of artists including Bela Fleck and the Flecktones, Pat Bergeson, and Riders in the Sky. The Gallery section of the magazine will also feature photos from the recent Life member party that took place this past Valentines. The Nashville Musician will also be happy to announce the induction of Hargus Pig Robbins into the Country Music Hall of Fame.
The Musician is only a small part of The Nashville Musicians Associations overall mission. Their membership includes studio musicians, touring bands, symphonic musicians, vocalists, arrangers, composers, contractors, and more. They support artists from contract negotiation all the way to helping new young bands realize their full potential.