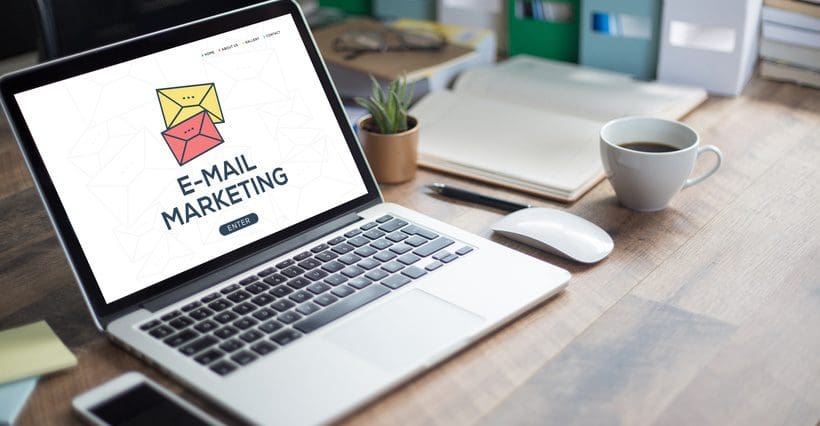 Beginners Guide to Email Marketing
In a digitally driven world equipped with speed-of-light technology and the need for instant gratification, a major component to successful marketing is the use of email marketing aka email blasts. Easily connect to your audience by utilizing simple tools and strategies. Your business can execute email campaigns, promotions and even weekly newsletters to keep your consumers in-the-know swiftly and successfully.

EMAIL MARKETING 101
Although the digital marketing world can seem a bit foreboding and overwhelming, there are key guidelines that are easy to follow and will help your company's overall digital marketing growth. By jumping into the email realm of it all, you will be able to target specific audiences, grasp a clearer picture of what content is connecting to your consumer, gain further reach, collect profound data in order to continue to grow your digital marketing foundation, and the kicker – incorporating email marketing into your company won't break the budget. Email marketing is an extremely cost effective and efficient strategy.
According to HubSpot, "Good email marketing is (1) valuable, (2) relevant (3) expected and (4) integrated" But how do you get there? Where to start? Which steps to prioritize and strategize? How do you maintain search engine optimization (SEO) fundamentals within your email blasts, as well as make use of the data collected in order to strengthen your business's overall ranking, reach and growth?
Let's dive into some key components that you should consider when starting a powerful email marketing plan and continued use through this essential digital tool.
1. Find an Email Marketing Service Software
To create, maintain and execute your emails efficiently, we suggest partnering with an email marketing software and automation tools. This will take tedious tasks out of your hand and expedite the overall process, allowing your team to focus on the content creation and analyzing the data provided to adjust and progress. Here at Horton, we are HubSpot partners and find their software to be effective, user friendly, and constantly striving to improve. Other tools we work with include MailChimp, ActiveCampaign and Constant Contact just to name a few!
2. Create and Grow Your Email Subscribers
One of the best factors when it comes to email marketing is the direct connection to your target audience and the ability to dive into even deep specifications when sending out emails. Segmentation is top priority since it allows you to send emails to specially selected groups. This will provide traction for a strong click-through-rate (CTR) thanks to the relevant information you're sending! Segmentation also lends a useful hand to craft up lucrative future promotions and the opportunity to collect data for further analysis (which we will discuss in more detail towards the end of this guide)
3. Content, Content, Content
We will say it time and time again, in any aspect of digital and inbound marketing, content is the king, the queen, and all the pawns put together. Without strong content, anything you send out to your consumers or apply to your domains will not fulfill your company's marketing needs. Before hitting "send" on your first email blast, make sure you identify a clear goal, (I.e. brand development and/or awareness, promotional deal, company updates) utilize segmented audiences, thoroughly research in order to incorporate keywords and phrases (big one here- never forget about the SEO fundamentals) and create an email that you'd want to read! This is a wonderful forum to speak with your audience in a light, conversational way that will grab their attention and encourage engagement and potential leads. Some content cues to keep in mind:
Have fun with it, add witty humor, relevant images

Internal links

Lead magnets (I.e digital downloads, coupons, first-time user promotion, eBook, and so many other options)!

Avoid heavy sales-oriented language – use email marketing as a connective communication tool!

Strong subject line (capture the attention right away so your email doesn't get overlooked or piled in with the abundances of the inbox)
4. Maintain a Presence
Like any marketing fundamental (really any business and overall life fundamental!) consistency is key. You could compose a killer email blast for a couple weeks and start to see an exponential increase in engagement and business. However, if you cease consistency, those leads will slowly be lost and therefore your hard work takes a hit! Scheduling email blasts ahead of time, and maintaining a schedule so emails are being sent out in an organized manner can help you stay relevant and connected. Understanding what time (morning, afternoon, evening, weekdays versus weekends, etc.) is gaining the most traction can also guide you and shed light on any adjustments that could be made to improve your digital marketing.
5. SEO Always Matters
It may seem like SEO fundamentals aren't as important when sending emails because you're sending it directly to a targeted consumer, but in reality, SEO is a crucial part in successful email marketing. As mentioned in the content guidelines: incorporate powerfully built keywords/key phrases, easy-to-read and accessible content, add in some action driven options and this will optimize your emails for high open rates, CTR.
Email marketing is just one of many ways to connect your brand with your market but definitely one you can tackle without dishing out much money or time! If you're looking to dive even deeper into the digital marketing world, Horton Group can take you through all the ins, outs and backdoors in order to further your knowledge and success!