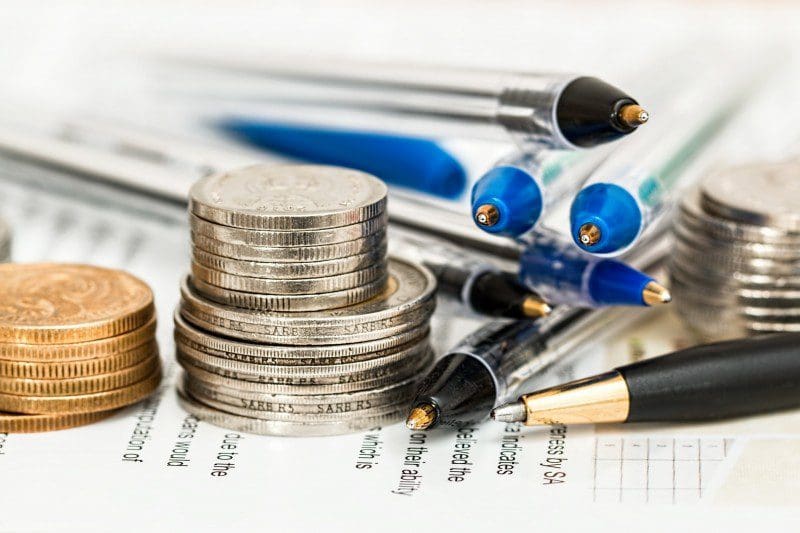 Sample Marketing Budget for Small Businesses
If you're a small business owner, ready to take your business to the next level, then you're in the right place. Developing a smart marketing budget not only sets your business on the right path for growth, but it can help align your long-term goals with your short-term objectives. Effective marketing practices and strategies can help your small business increase gross profits by getting the greatest possible ROI.
Here are the 5 steps to creating an effective marketing budget:
2. Figure Out How Much You're Currently Spending
4. Figure Out Where You Need To Spend Your Marketing Dollars
5. Find a Budget Template That Works
---
Before we dive in, let's start by giving a round of applause to small businesses throughout the country. According to the U.S. Small Business Administration:
The 28 million small businesses in America account for 54% of all U.S. sales.

The small business sector continues to grow rapidly, even while corporate America shrinks

Small businesses provide 55% of all jobs and 66% of all net new jobs since the 1970s.

The 600,000 plus franchised small businesses in the U.S. account for 40% of all retail sales and provide jobs for some 8 million people.

The small business sector in America occupies 30-50% of all commercial space, an estimated 20-34 billion square feet.
---
What's Your Marketing Budget?
If your answer is: "I have no idea!" then you're not alone. While it's pretty easy to understand the importance of marketing as a recipe for success and as a tool for attracting new customers, converting leads, making sales, and gaining the long-term loyalty your clients, it can be tough to quantify your marketing needs in the form of a dollar amount. To accomplish that, you'll need a clear budget.

Let's face it, probably one of the last things you want to hear as a small business owner is the dreaded question, "What's your budget?" Clearly, we're not afraid to ask. And in fact, we'll go right ahead and take all of the hand-wringing out of the question by helping you figure out what, exactly, your marketing budget needs to be to promote growth and to ensure the success of your small business.
5 Steps for Creating an Effective Marketing Budget
Step 1: Ask Good Questions
One of the best ways to develop a realistic budget for your small business is to create a great marketing plan. Start the process by asking yourself a few questions. It's okay to talk to yourself, we won't judge.
What are my business's needs?

What message am I looking to convey about my business?

Who are my ideal clients?

Where and how does my target audience shop?

Am I looking for brand awareness?

Is my website responsive?

Would my business benefit from a website with

eCommerce capabilities

?

Do I need more leads?

Are my existing leads converting into sales at high enough percentage?

Do I need a way to develop a clearly integrated marketing and sales funnel?



Once you've determined your set of overarching goals, it's time to move on to the next step of the budgeting process.
Step 2: Figure out How Much You're Currently Spending
Even if you're operating without a marketing budget, it's highly unlikely that you're not paying anything to attract clients. Some call it "the cost of doing business," we call it marketing. Now, take a moment to think about what you're spending on traditional advertising, digital marketing, PR, events, trade shows, and website development and hosting.
Once you have a solid figure, think about how well (if at all) you're able to track the leads generated from your marketing efforts. If you can't determine how well your efforts are working, it's nearly impossible to determine an accurate cost-per-lead or to figure out your ROI.
Entrepreneur recommends that for companies that have been in business for less than five years, spending 12-20% of gross or projected revenue is a good place to start. While it may seem like a lot, your efforts will, ideally, result in significantly increased leads and sales. Brand new start-ups that are less than a year old may need to focus on brand awareness before jumping, head-first, into full-fledged marketing campaigns. For well-established companies, it's recommended that between 6-12% of gross or projected revenue be devoted to marketing efforts.
As a conservative counterpoint, The U.S. Small Business Administration (SBA) recommends that "As a general rule, small businesses with revenues less than $5 million should allocate 7-8 percent of their revenues to marketing. This budget should be split between 1) brand development costs (which includes all the channels you use to promote your brand such as your website, blogs, sales collateral, etc.), and 2) the costs of promoting your business (campaigns, advertising, events, etc.)"
Although the percentages differ, both the SBA and Entrepreneur agree that to be successful, small businesses must develop thoughtful and realistic budgets based on clear goals and with ROI front of mind.
---
Contact us to get started on your marketing strategy.
---
Now that you have a sense of what you're currently spending and what you should be spending, go back to Step 1 and translate those questions into Strategic, Measurable, Attainable, Realistic, and Time-Based goals.
Here are a few examples of SMART goals that may translate to your company:
Attract 1000 new website visitors each month with a 5% conversion rate, yielding 1 new customer each month.

Increase leads by 10% by the end of the first quarter.

Double your email list by the end of the second quarter.

Increase your Facebook Likes and post impressions by 50% by the end of the second quarter.
A small business's smart goals may include anything from buyer persona development, to investing in SEO and keyword strategies, to creating a strong conversion path and paving your buyer's journey, to email marketing campaigns, to creating automated workflows to manage your incoming leads to quantifying sales. If you're interested in learning more about how HubSpot can help you articulate and achieve your SMART marketing goals, check out our Pilot Campaign.
Step 4: Figure Out Where You Need to Spend Your Marketing Dollars
Planning your budget can get tricky here, especially if you have limited experience with marketing. Begin by visualising your ideal customers and your target audience. Consider the following marketing methods and expenditures as you prepare your budget:
Responsive website

SEO

PPC advertising

Social campaigns

Email campaigns and newsletters

Content marketing

Inbound marketing

Traditional advertising

Public relations

Events

Marketing collateral



Small businesses looking to increase brand awareness while simultaneously boosting marketing efforts often find that inbound marketing, which may include a variety of digital strategies including social media outreach, PPC advertising, content offers, keyword optimized blogging, email campaigns, video blogs, SlideShares, Ebooks, and funnel-oriented workflows a flexible and adaptive way to begin allocating budget dollars. Inbound marketing generates more leads at a fraction of cost per lead. Learn more about determining your ROI.
Less expensive than outbound approaches, inbound marketing approaches empower small businesses to better manage their marketing budget and avoid those marketing expenditures that are too costly to pursue. Inbound marketing approaches are more inline with the budget constraints of today's small business owners. These approaches focus instead on being searched online by customers, rather than to search for customers. Most inbound strategies focus on using specific keywords meant to drive potential clients to the company's website or blog. Some of these results can be achieved organically, while others must be achieved through a combination of PPC (pay-per-click) campaigns that advertise the company's product offering online.
If creating a new website or revamping a seriously dated website is your priority, consider a Growth Driven Design model. This flexible, retainer-driven approach enables you to work on pressing website needs while also keeping an eye on marketing and lead generation.
Step 5: Find a Budget Template that Works
The best marketing budget for your business is one that's easy to use, flexible, and comprehensive. Be sure that you allow room for actual and projected costs for multiple categories. Keeping these costs close together helps you monitor progress throughout the month, quarter, and year. Integrating your budget with lead tracking helps you assign value to each lead to determine what kind of marketing strategies work best for your small business.
Take a look at this sample master marketing budget spreadsheet from our partners at HubSpot:
The folks at SmartSheet have also developed a simple marketing budget that allows entrepreneurs and marketing directors to show projected annual marketing expenditures for multiple categories side-by-side.
Both are free to download and are great resources to help you marshal your marketing dollars effectively. Honestly, though, a tool as free and simple as a Google Spreadsheet can get the job done. Spend some time exploring the Google Sheets Template Gallery for spreadsheet ideas for your small business budget.
Marketing Budget Conclusion
Now that you've developed your ideal marketing plan and found the free marketing budget template of your dreams, it's important to leave room for improvements throughout the course of the fiscal year. Your marketing budget will need to be flexible enough to adapt to your specific business and marketing needs while keeping overall goals and strategies clear.

Businesses today have a myriad of marketing approaches to benefit from. However, as numerous as these approaches are, they ultimately fall into two main doctrines. The first of these are categorized as outbound marketing approaches. These outbound approaches are predicated on searching for customers via conventional marketing strategies like TV, radio, magazine advertisements, print advertisements and in some cases, billboard advertisements. Unfortunately, companies pursuing outbound marketing strategies must have deep pockets as the investment needed to make these strategies work can be extremely costly.
Combining Inbound and Outbound
Many argue that the single most important rule of marketing is to first identify where customers congregate. Keep this one simple rule in mind, and your small business will be able to distinguish its product and service offering through an aggressive marketing campaign. However, it's unlikely that your customers will only be reached by one marketing doctrine over the other. In essence, you'll likely have to combine both inbound and outbound marketing approaches to reach your customers.
Tracking marketing expenditures and expressing them as a percentage of sales is an essential part of lowering the company's costs of finding new customers. The marketing budget is meant to track a company's expenditures on marketing and to further track the company's costs of getting new customers. Ultimately, the goal is to increase the company's marketing ROI (return on investment) by continually increasing the number of leads generate for each dollar spent in marketing.
A version of this post first appeared on October 18, 2011. It has been updated to reflect current trends and emerging strategies.
Related Posts: