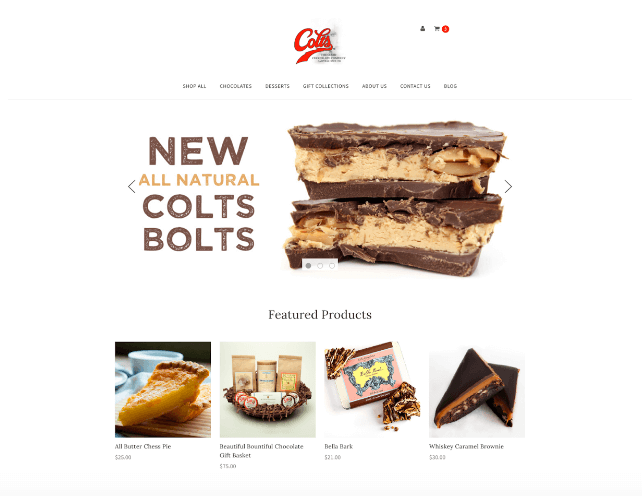 Drupal to BigCommerce: Colts Chocolates Takes the Plunge
Nashville's Colts Chocolates needed an updated, responsive and conversion-oriented website to sell their popular and delicious confections across the globe. Their outdated Drupal eCommerce site was fast approaching the end of its supported lifespan and Horton's development team recommended migrating their existing content and products to a new, streamlined BigCommerce site that would work flawlessly on mobile devices.
---
"Their goal was to sell their chocolates, desserts and gift collections online while making it as easy as possible for customers to find what they wanted and to check out quickly. Their design also needed some reworking and they absolutely needed a responsive theme. Now, it's a lot easier for customers to shop on their mobile device." – Horton Group Project Manager, Charley Campbell.
---
Eye Appeal: Before and After
Before
After
Before the migration to BigCommerce, visitors to the Colts Chocolate's Drupal website were greeted by an unappealing large brown frame, which effectively dwarfed product descriptions and images of Colts' delicious confections.
In contrast, the bright and clean Horton-designed BigCommerce website pulls attention immediately to their famous Colts Bolts and delectable desserts and straight into the sales funnel. With clear calls to action and navigation, it's hard not to click.
The BigCommerce Difference
---
"The difference between Drupal and BigCommerce is like night and day." – Project Manager, Charley Campbell
---
BigCommerce was a great solution in the case, because they just do it so well. The platform is streamlined, clean and made exclusively for selling. For chocolate lovers, the website is faster and much more intuitive, the checkout process is smooth, and it's easy to create an account, replicate previous orders and check on the status of an order. For one-time purchases, shoppers can also opt out of creating an account. For the good folks at Colts Chocolates, adding products, modifying descriptions and processing orders just became a lot easier with their new BigCommerce website.
To integrate accounting, inventory management, order management and shipping, Horton Group used Webgility, saving Colts Chocolates countless hours of data entry and helping to ensure efficient order processing.
Their new site is infinitely scalable and will grow as business continues to boom. Should they ever decide to sync their products with eBay, Amazon, or Google Merchant, they can. If, in the future, they want to add an in-store pick-up for their Nashville clients, they can. What's a breeze with BigCommerce would have required installing high maintenance custom modules and plugins.
---
"BigCommerce is a lot more efficient for the customer." – Charley Campbell
---
In addition to improvements to the website's user experience and design, Horton Group also recommended integrating MailChimp into the checkout process so that customers can opt to join the Colts Chocolates family. This will help the Colts marketing team to build a strong, well-qualified, and happy customer base.
From Enterprise-level businesses to small businesses, BigCommerce users benefit from:
99.99% uptime
Security
Lower costs
Mobile first design
Existing and Custom themes
Smooth migration
Customer-first options
Fast Check-out
Cart-saving options
Bulk product import/export
Product categories
Enhanced Images
Real-time shipping rates
Dozens of integrated payment options
Upgrade your old eCommerce site today and join the BigCommerce crew with Horton Group. Also, check out Colts Chocolate's new website and get some delicious treats for your family, friends, or self!