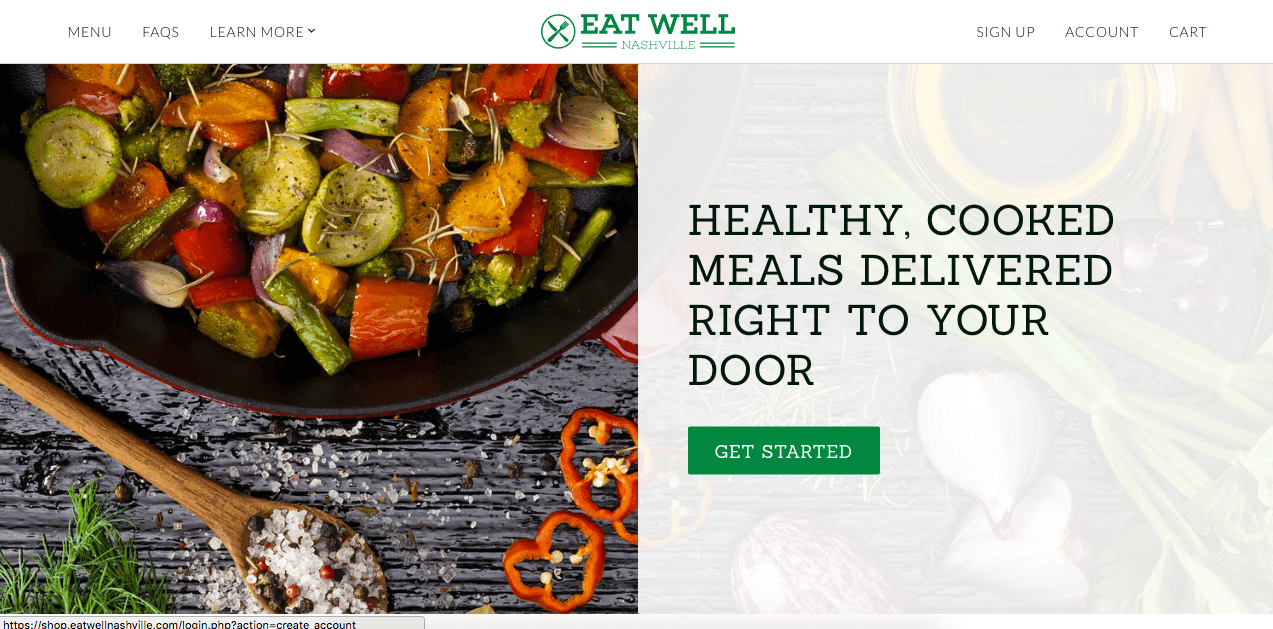 Squarespace and Bigcommerce – Eat Well Nashville Case Study
Eat Well Nashville, the innovative new service that delivers healthy and affordable chef-prepared meals to doorsteps throughout Music City, approached Horton Group to develop a responsive and sales-oriented website. We knew that Eat Well Nashville needed a website that was as beautiful and convenient as their restaurant-quality meals and delivery are.
Squarespace provided the perfect home for the company's detailed content and BigCommerce was the ideal showcase for Eat Well Nashville's extensive menu and convenient ordering method. The seamlessly integrated website works flawlessly on all devices and presented the perfect solution for the company's target market: busy health-conscious and food-aware professionals throughout the region.
---
"To give the client the best of both of both worlds, we went with Squarespace and BigCommerce. BigCommerce is more robust as an ecommerce solution and Squarespace offers more for the client in terms of marketing pages and content."
— Charley Campbell, Horton Group Project Manager
---
"This was a new and innovative venture for Horton. It was exciting to work with a new brand in Nashville, Eat Well, and the project and its stakeholders worked tirelessly to come up with a dynamic solution. We used two of our favorite platforms, Squarespace, which we use for our marketing sites, as the face of the Eat Well site and we used BigCommerce to host the eCommerce components of the website. It was important for us to connect both CMS's so that Eat Well can easily update, add, and manage new products as their brand grows."
— Paige Allen, Horton Group Creative Strategy and Operations Development Lead
---
Web Design Examples
Homepage & Blog by Squarespace:
Menu via Bigcommerce:
Their new site is scalable and we look forward to watching the website grow as Eat Well Nashville's menu and clientele grows.
The Benefits of Squarespace
Horton Group is a Squarespace Circle Member because we love how clean, fast, and intuitive the platform is for our team of custom developers and for our clients. Squarespace is a mobile first platform that our clients and their customers appreciate. From a development standpoint, it's endlessly customizable and once we have a strong framework built, our clients find it easy to use and update. Domain, hosting, analytics and mobile compatibility are all included.
It's a great platform for business owners who want a simple but professional-looking website that drives traffic to their virtual (or physical) door or for organizations looking to deliver lots of information clearly. The builder's clean, visually-focused layouts make it perfect for creative industries, nonprofit organizations, and gorgeous food-inspired websites like Eat Well Nashville's.
The Benefits of BigCommerce
From Enterprise-level businesses to entrepreneurial start-ups like Eat Well, BigCommerce's Pro-level clients benefit from:
Faceted searched and product filtering

Unlimited pages and galleries

Unlimited storage, bandwidth and contributors

eCommerce Settings

Multiple products

99.99% uptime

Security

Lower costs

Mobile first design

Existing and Custom themes

Smooth migration

Customer-first options

Fast Check-out

Cart-saving options

Bulk product import/export

Real-time shipping rates

Dozens of integrated payment options
Upgrade your old eCommerce site or launch your new business online today with Horton Group.